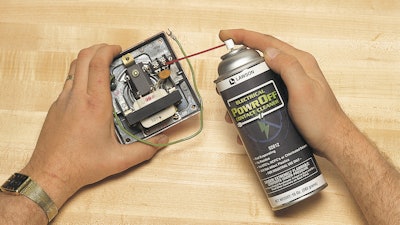 Electrical contact cleaners remove dirt, oil, grease and metallic oxides caused by corrosion and moisture from the surface of small pieces of electrical and electronic equipment, ignition systems, motors, electronic controls, relays, thermostats and other areas where you need quick evaporation with no residue. Using a contact cleaner can help eliminate costly downtime and potential long-term equipment damage. Powr Off from Lawson Products (Chicago, IL) is an effective electrical contact cleaning solution for use when the power is off. This fast-evaporating, no-residue formula contains no CFCs, HCFCs or chlorinated solvents. Powr Off evaporates quickly and will not affect plastics. Simply turn the power off, clean and allow the vapors to disperse before turning the power back on. Specifically, Powr Off is:
Designed for non-energized circuits only.

Great for electrical switches, controls, contacts, motors, buss bars, relay panel contacts and more.

A net weight of 10 oz.
www.lawsonproducts.com, 866-837-9908