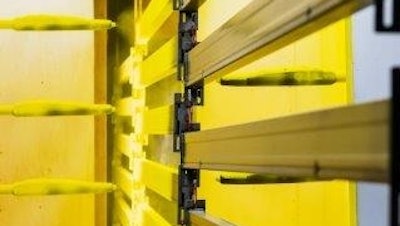 Dynaprep PFL, a pre-paint cleaner and coater from Dynamix (Markham, Ontario), is an easily applied pre-treatment that chemically bonds to the oxide layer on the substrate, creating a protective coating that promotes better adhesion for paint. It is suitable to be applied by hand, spray gun or multi stage washer, and it is appropriate for ferrous and nonferrous substrates and offers significant process cost savings. It also works well with galvanized zinc. Dynaprep PFL has better paint adhesion and corrosion protection than your typical iron phosphate pre-treatment. It is:
Free of Phosphates.
Free of Fluorides.
Free of Nonylphenol and Nonylphenol ethoxylates.
Free of regulated metals.
It meets RoHS and REACH compliance and it has an environmentally safe and simple waste treatment process. In most cases nothing further than a pH adjustment is required for discharge.
www.dynamix-inc.com
; 905-477-0900