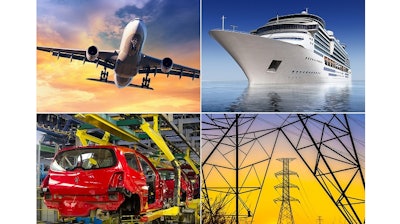 LumiShield Technologies (Pittsburgh, PA), a spinoff company from Carnegie Mellon and the National Energy Technology Laboratory, has introduced a novel aluminum electroplating process called Lumidize. When fully commercialized, with the support of the National Science Foundation's SBIR program, it will be an effective replacement for common surface preparation technologies based on heavy metals and phosphates.
Lumidize is a proprietary aqueous process that plates aluminum oxide onto any conductive substrate. The resultant electroplate (0.1 mil or less) forms a hard, tenacious barrier layer, maximizing the adhesion of organic materials and improving corrosion resistance. Lumidize binds to any conductive material, and has a particular affinity for carbon steels. Once Lumidized, those surfaces chemically bind to epoxy and urethane topcoats without the need for phosphate or primer Other specifics include the following:
Lumidize is a flexible electroplating process that's a simple addition to existing electroplating lines.
It is a stand-alone

coating. With the application of different seals, the finish can be hydrophilic, hydrophobic, or provide 200 hours of ASTM B117 salt spray resistance.
Lumidize is also a fully functional replacement for phosphates and primers when applied prior to painting or powder coating.
Because it is relatively low cost, Lumidize has wide application in vehicle manufacturing, and in the ag/construction, shipbuilding and consumer products industries.
www.lumishieldtech.com; 412-607-8351