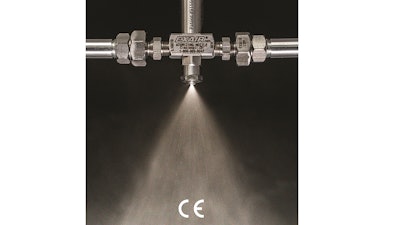 New 1/8 NPT No Drip External Mix Atomizing Spray Nozzles from EXAIR (Cincinnati, OH) mix liquid and air outside the nozzle and allow the air and liquid flows to be adjusted independently. The new, patented No Drip External Mix Atomizing Spray Nozzles work in the same way EXAIR's standard atomizing nozzles do, but have the added benefit of positively stopping liquid flow when compressed air is shut off. Post spray drips waste precious resources such as expensive coatings, chemicals or water and are now eliminated with EXAIR's patented design. When the compressed air supply is shut off, the no drip nozzle positively seals off the flow of liquid eliminating the possibility of drips. Features include:
Availability in three different liquid patterns: round, narrow angle flat fan and wide-angle flat fan patterns.
The option of 1/8, 1/4 and 1/2 NPT inlets, with a variety of liquid flow values to suit your application.
They are for pressure fed applications where precise liquid flow is needed. External mix nozzles can be used on liquids with a viscosity above 300 centipoise.
www.exair.com/33/1_8ndextmix.htm; 800-903-9247