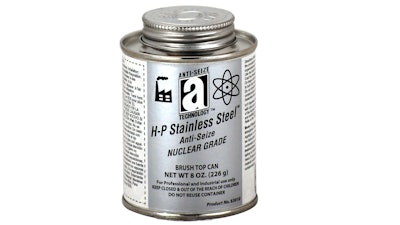 Anti-Seize
H-P Stainless Steel Anti-Seize Compound, Nuclear Grade, is made with pure graphite and stainless-steel powder to meet the requirements of the nuclear and electrical power generating industry. Each lot from Anti-Seize (Franklin Park, IL) is tested for halogens, sulfur, nitrates, nitrides, and low melting metal elements specifically restricted for use in nuclear power plants. The compound exceeds the purity requirements set forth by Westinghouse and General Electric for use in nuclear power plants as well as turbine applications. Additional features include:
Stainless steel fillers that form a laminar matrix of overlapping particles to shield out moisture.
Chemical, corrosion, and UV resistance.
Thermal resistance from -50°F to 2,400°F (-46°C to 1,316°C).
Compliance with Toshiba/Westinghouse Specification; APP-GW-Z0-602 and GE/Hitachi Specification; D50YP12.
Chemical resistance — prevents galling and seizure when assembling hard metal alloys.
Non-melting grease, so the compound will stay on the parts at elevated temperatures without the fear of dripping off and contaminating the surrounding areas.
Applicability in gauges, fittings, and fasteners in steel mills, power and nuclear plants; electrical engineering plants; stainless steel pipefittings and unions, reactor bolts, fasteners in exhaust manifolds, and turbine bolts.
For more information, call 800-991-1106; or visit www.antiseize.com.