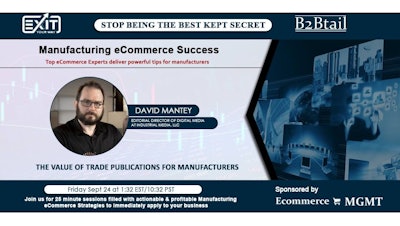 Today, Industrial Media's David Mantey will join Curt Anderson and Damon Pistulka on the "Manufacturing eCommerce Success" webinar series.
The discussion will focus on "The Value of Trade Publications for Manufacturers," and will be broadcast live at 12:32 CST.
Here is a link to register for the event: https://live.remo.co/e/the-value-of-trade-publications-/register.
"Trade publications provide manufacturers a highly engaged, qualified and curated audience," said Mantey. "These resources are a perfect fit for manufacturers looking to reach a targeted audience. We'll show you what works and help you navigate around common pitfalls."
Industrial Media owns Industrial Equipment News (IEN), a print and digital publication that has provided the latest news and information on products, components and equipment to manufacturers since 1933.
"During this webinar, we will learn how trade publication resources can help foster innovation and drive business performance," said Pistulka. "We will also see what it is like to be inside of a manufacturing information generating powerhouse like Industrial Media, producing daily digital and printed information."
In September 2019, Industrial Media acquired Manufacturing.net, IMPO, Industrial Distribution, Food Manufacturing and Manufacturing Business Technology.
"The folks at Manufacturing.net know how to deliver the information to the professionals shaping the manufacturing landscape," added Anderson.