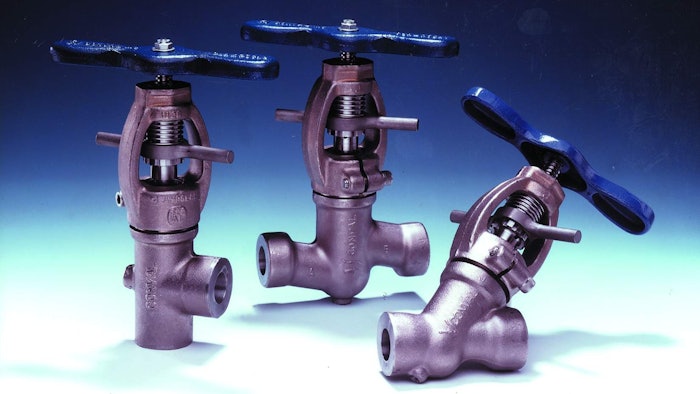 ENFIELD, CT — Conval offers over 12,000 configurations of Clampseal Y, angle and T-pattern globe stop, check and stop check valves for high temperature and high pressure food manufacturing applications. Parts may be interchanged across installations, which means an entire plant can be supported with small parts inventory. This reduces stocking costs, procurement expenses and maintenance training time.  
These U.S.-made forged valves are available in ½" through 4" sizes through ASME #4500 Class with socket weld, butt weld, threaded, clamp connector, flanged or a variety of special ends. Materials include carbon steel SA105, low alloy SA 182-F22 and F91, stainless steel SA 182-F316, SA 182-F347, Inconel and Monel. Features include conformance to ASME B16.34; pressure seal bonnet for maintainability; quick-replacement packing chamber; single-piece gland with integral gland wrench; solid Stellite™ seating surfaces; and two-year warranty.
Call 860.749.0761, fax 860.763.3557, email sales@Conval.com, or visit www.Conval.com.