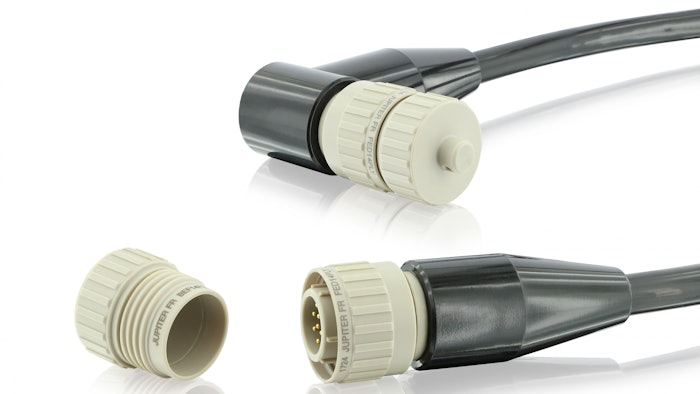 Souriau
Souriau introduces a range of SWIM harnesses and connectors for shallow immersion.
Immersible connectors have to meet specific mechanical and chemical constraints. With SWIM connectors, the plug is screwed into the receptacle to lock both parts together and two O-rings at the mating interface and ensure the connection stays watertight even at low pressure.
Manufactured in thermoplastic material, SWIM connectors are lightweight and watertight. They are resistant to corrosion, cathodic delamination and UV, which confers them with long life in the marine environment. The screw mating and the coding pins make it easy to mate the plug with the receptacle, whatever the number of pins.
Souriau's SWIM half-harnesses and harnesses provide reliable solutions at a very competitive cost. In the catalogue, the half-harnesses are available on the 2 housing sizes and 13 contact arrangements, in lengths from 1 to 10 metres with cable connector overmoldings that can be straight or 90° angled.
The design and manufacturing quality of Souriau's SWIM harnesses ensure secure connections in applications up to 300 m deep. They perfectly match the requirements of surface drone applications. These drones are used for marine mammal research missions, oil exploration or military-type applications such as maritime surveillance. 
SWIM harnesses also meet the needs of meteo-oceanographic buoys, OCROVs (Remotely Operated Underwater Observation Robots) and a wide variety of equipment integrating sensors (hydrophones, temperature, salinity, etc.) and electronic devices.
For more, visit www.souriau.com.