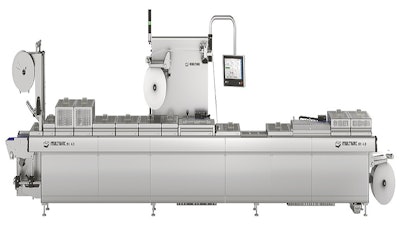 MULTIVAC (Kansas City, MO) recently unveiled their X-Line Thermoform Packaging Machine, which, according to the company, offers a more consistent pack quality and higher level of process speed. Additional features include:
A comprehensive sensor system and networking with the MULTIVAC Cloud and Smart Services.

The ability to change package configurations in less than 10 minutes.

The connection to the MULTIVAC Cloud gives users access to Pack Pilot and Smart Services, which provides a constant connection and up-to-date information on software, film availability, machine settings and other data.
Comes with X-MAP, a gas flushing process that can be precisely controlled for packing with modified atmosphere.
The X-Line can be operated through its HMI 3 multi-touch interface that corresponds with the operating logic used by mobile devices. The HMI 3 can also be set up for individual operators.