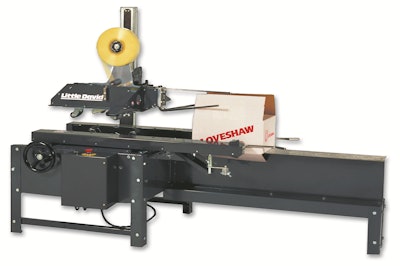 Signode Industrial Group (Glenview, IL) offers their SP-304 Loveshaw Little David Case Sealer with the goals of improving product integrity and increasing sustainability. The case sealer ensures proper closure and sealing of the protective box with features that include:
An automated three-flap folder with universal bottom flap folding bars for quicker and more uniform closure.

Interchangeable tape cartridges and top squeezer rollers.

Requires no lubrication and alleviates twisting motions known to cause carpal tunnel syndrome.
A knife guard system that ensures workers are not exposed to the tape-cutting blade.
A narrow profile T-rail table design and patented single mast provide clearer operator access.