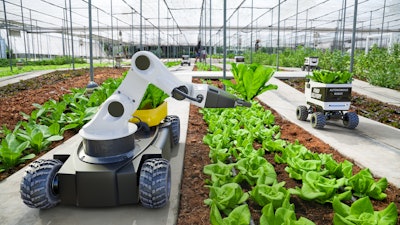 iStock
HARTFORD, Conn. — Agbotic, a leader in regenerative SmartFarm technology, announced its groundbreaking in Ashford, Connecticut, where it will build the newest version of its highly automated, machine leaning organic farm technology.
Regenerative farming cleans the air, water, and soil and can reverse climate change by rebuilding soil organic matter and restoring soil biodiversity — resulting in carbon drawdown. It also makes higher quality and lower cost food.
There are significant advantages to embedding organic, soil greenhouses on distributed SmartFarms. Those benefits include food security and diversity; a cleaner environment; and a secure, year-round supply of local, organic, fresh, healthy food. The economics are also better than with hydroponic greenhouses.
"The regenerative ag movement is accelerating with initiatives from industry leaders like Walmart, PepsiCo, ADM and General Mills," said Agbotic CEO John Gaus. "Agbotic has created a winning tech stack and proven it at scale to produce organic crops at a cost that competes with non-organic greenhouse and outdoor crops. Our economics will continue to improve with the evolution of our technology."
"Integrating innovative technologies into our agricultural operations in Connecticut is critical to mitigating the impacts of climate change while increasing plant quality, crop yields, and profit margins," said Connecticut Agriculture Commissioner Bryan Hurlburt. "We are excited to see this project move forward as it's another building block to a future of more sustainable agriculture which will offer increased food security and availability of fresh CT Grown products for Connecticut residents."
Indrajeet Chaubey, Dean, College of Agriculture, Health and Natural Resources at the University of Connecticut, added, "We are very excited to have Agbotic bring their state-of-the-art, greenhouse production system to Connecticut. This new facility will create excellent opportunities for research and outreach collaborations. We are also excited that our students will have experiential learning opportunities in this award-winning production system that will prepare them for top-level careers in agriculture."
"Connecticut, and specifically this farm in Ashford, is the perfect place to continue our Mission to revolutionize farming in ways that nurture people and restore nature," said John Prete,  who developed the Ashford project and is on the board of directors of Agbotic. "We are adding the most advanced 'Smart Farm' to a very successful operating farm to deliver better food at lower prices with the best environmental impact of any farm model. This farm will produce crops for all of Connecticut and surrounding states."