Russ Davis Wholesale
Russ Davis Wholesale (RDW), a leading fresh produce processor and distributor, in an abundance of caution is voluntarily recalling multiple products due to possible contamination of Listeria monocytogenes, an organism which can cause serious and sometimes fatal infections in young children, frail or elderly people, and others with weakened immune systems. Although healthy individuals may suffer only short-term symptoms such as high fever, severe headache, stiffness, nausea, abdominal pain and diarrhea, Listeria infection can cause miscarriages and stillbirths among pregnant women.
This recall is in response to Mann Packing initiating a recall late in the day Nov. 3 as an ingredient provider to Russ Davis Wholesale.
To date, Russ Davis Wholesale has not received any reported illnesses related to this organism.
The affected products are: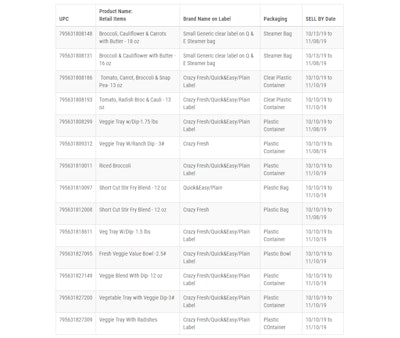 Affected product was delivered to retail stores in Minnesota, Wisconsin, North Dakota, South Dakota, Illinois, Indiana, Michigan, Iowa, Montana, Nebraska, and Wyoming.
Retailers have been instructed to remove affected products from store shelves and inventory immediately. Consumers are urged to immediately throw product away and not consume.
Consumers with questions may contact the company at: customerservice@russdaviswholesale.com or 877-433-217 between 8:00 am and 5:00 pm central standard time.