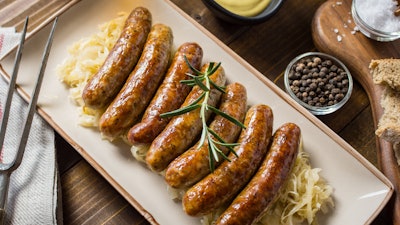 Cave Junction, Oregon-based Taylor's Sausage, Inc. is recalling approximately 641 pounds of ready-to-eat meat and poultry sausage products because the products may be misbranded and contain pork or sheep casings that were not declared on the product label. The U.S. Department of Agriculture's Food Safety and Inspection Service (FSIS) made the announcement
The 16-ounce packages of ready-to-eat meat and poultry sausage items were packaged on June 26, August 6, August 16, September 5 and October 10, 2019. They were sold at retail locations in California and Oregon.
The problem was discovered by FSIS during routine inspection activities. There have been no confirmed reports of adverse reactions due to consumption of these products.