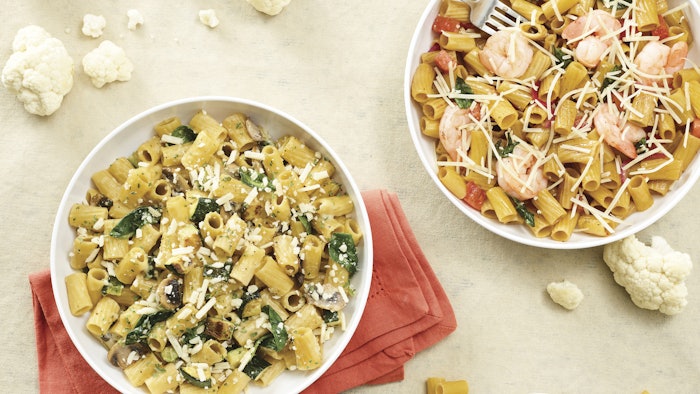 Noodles & Company
BROOMFIELD, CO — Noodles & Company, known for serving noodle and zoodle dishes from around the world, announced Wednesday a new noodle innovation that's here to stay, Caulifloodles.
The cauliflower-infused noodles, a permanent addition to the menu, will also be available in two new limited-time-only seasonal dishes, the Cauliflower Rigatoni in Light Onion Cream Sauce and the Cauliflower Rigatoni Fresca with Shrimp. Plus, guests can substitute Caulifloodles into any dish on the menu at no additional cost. Both new vegetable-infused dishes are available now in restaurants nationwide:
Cauliflower Rigatoni in Light Onion Cream Sauce: Cauliflower-infused rigatoni in light onion cream sauce with roasted zucchini, mushrooms and spinach, finished with MontAmoré cheese and parsley
Cauliflower Rigatoni Fresca with Shrimp: Cauliflower-infused rigatoni sautéed with shrimp, balsamic vinaigrette, olive oil and roasted garlic, mixed with red onion, tomato and spinach, topped with Parmesan cheese
"A regular serving of our new Caulifloodles boasts a full serving of vegetables and, the best part is they taste just like classic pasta, so guests don't have to compromise flavor or texture," said Nick Graff, executive chef at Noodles & Company. "By expanding our Zoodles and Other Noodles platform with dishes that include the light and nutrient-rich cauliflower-infused noodles, we're able to offer choices for everyone in the family, no matter their dietary needs."
Cauliflower is an excellent source of key nutrients including Vitamins C, K, B6 and fiber, making Caulifloodles a great way to sneak vegetables into kids' diets. A kids' serving of Caulifloodles has half the daily serving of vegetables for children and the authentic pasta taste makes it something kids will love eating.
Also beginning today, Noodles & Company will remove fountain drinks as an option from the kid's menu panel and replace them with selections including organic juices and milk to ensure healthy options are easy and accessible. Noodles & Company is committed to nourishing and inspiring every guest, including children, and the change will feature choices that are better for guests' lifestyles.