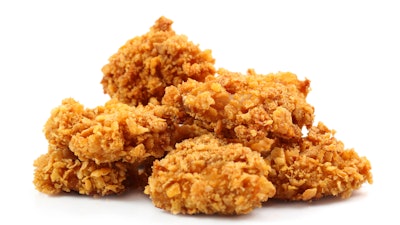 Chicago, Illinois-based Taylor Farms Inc. is recalling approximately 342 pounds of breaded chicken products due to a processing defect that may have led to the undercooking of products. The U.S. Department of Agriculture's Food Safety and Inspection Service made the announcement.
The ready-to-eat breaded chicken items were produced August 3 and sold in 14.75-oz. sealed clear trays containing Parmesan Topped Chicken with Spaghetti; 12.5-oz. sealed clear trays containing Homestyle Fried Chicken Dinner; and nine-oz. cardboard trays with plastic lids containing Breaded Chicken Breast.
These items were shipped to retail locations in Arkansas, Michigan, Mississippi, Ohio, Tennessee, and West Virginia where they are sold in the deli section of retailers.The problem was discovered when the recalling firm notified FSIS of a consumer complaint. There have been no confirmed reports of adverse reactions due to consumption of these products.