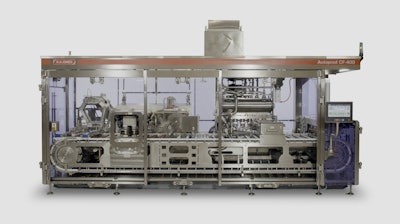 R.A. Jones (Covington, KY) recently unveiled their Autoprod Cup Filling product line, the CF-400. Features include:
Availability in 5, 6 or 8-lane configurations with production speeds up to 900 cups per minute.
An extended frame with room for two fillers.
Pulsed light cup and lid sterilization.
A cup and lid vision inspection system.
Patent-pending, sealed rotary drive mechanisms that are easier to clean and maintain.
Diving nozzles that reduce splashing and peaking.
Horizontal cup tracking to increase the index rate.
A belt drive that can help reduce maintenance and adjustments.