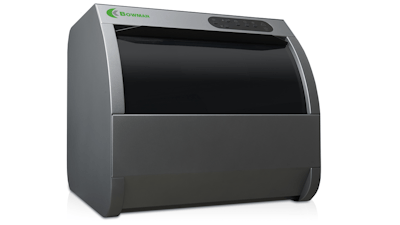 Bowman
Bowman (Schaumburg, IL), a U.S. manufacturer of XRF coating measurement instruments, has introduced its large component L Series XRF for parts measuring up to 22" X 24" X 13". The Bowman L Series desktop instrument was engineered for OEMs and contract shops who need precise control over the thickness of plated deposits, preventing the quality issues that result from under-plating, and the cost consequences of over-plating. Additional features include:
The ability to determine the thickness of coatings within a broad range, from aluminum through uranium (13 through 92 on the periodic table).
The ability to measure up to five coating layers simultaneously.
A proprietary micro spot focus x-ray tube.
A temperature-stabilized silicon PIN diode detector — element peaks eliminate the need for secondary filters.
Minimal peak position drift assures stability over time and extends the interval between recalibrations.
A 4-position multiple collimator assembly — collimator sizes and focal distances can be tailored to the application.
A micro-focus video camera, synchronized with the x-ray optics, that pinpoints the target.
The ability to accommodate recessed areas and unusual part geometries.
Xralizer software to quantify coating thickness from the detected photons.
For more information, call 847-781-3523, or visit www.bowmanxrf.com.