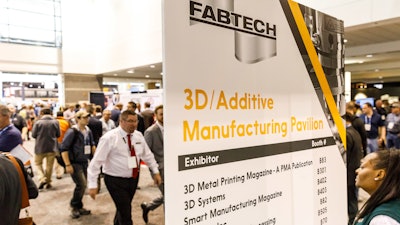 Fabtech 2017 is North America's largest metal forming, fabricating, welding and finishing event. This year, the event was held in Chicago and hosted more than 1,700 exhibiting companies and a total of 44,935 attendees from 120 countries.
With more than 750,000 square feet of exhibit space, the show gave attendees access to the industry's leading companies, latest innovations and insight into current and future trends. The four-day expo included the most extensive education programming in its history, as well as a stacked lineup of expert-led panels and keynote presentations.
A new Additive Manufacturing Pavilion and Theater welcomed industry professionals for tech tours, presentations, and panels. Several of Fabtech's most attended education tracks also covered advanced technologies, such as automation/smart manufacturing and robotics.
Conventional tracks like stamping and lasers also incorporated how these new technologies can be implemented to improve traditional operations. The workforce development track delved into the effect the industry's transformation would have on ensuring companies are able to hire the right talent.
Fabtech 2018 will be held in Atlanta, GA.