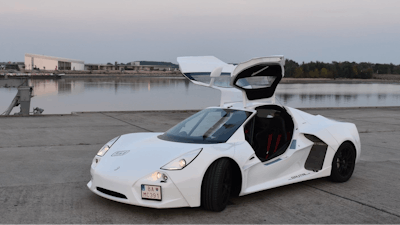 Axalta
Spies Hecker, one of the premium refinish brands of Axalta Coating Systems, a global supplier of liquid and powder coatings, has been selected as the paint provider for the prototype of the Brutal S1, a Slovakian road-legal, tuned-for-performance super sports car.
Ten years in the making, the Brutal S1 has a wedge-shaped body with sharply defined edges, gull-wing doors and a distinctive rear. The light two-seater is powered by a 300hp two-liter turbocharged Subaru engine.
The project was realized with the support of Color Centrum Vráble s.r.o., Spies Hecker's Slovak distributor.
"The essence of the Brutal S1 is a racing machine engineered for high performance. The brakes and sections of the suspension come from motor racing. It is basically a thoroughbred racing car that is licensed for use on public roads," says Marian Lušpai, founder of Brutal.
Lušpai's brief to Color Centrum Vráble s.r.o. was to avoid unnecessary weight from the paint. Axalta's experience in other motorsports disciplines, including NASCAR and Formula One, made it an easy brief to fill.
Joachim Hinz, Spies Hecker Brand Manager for Europe, Middle East and Africa, says, "In order to achieve the required minimal coating thickness, Color Centrum Vráble s.r.o. used the Spies Hecker Hi-TEC system products, which can be applied extremely efficiently. The snow-white Brutal S1 is a real eye-catcher that has unsurprisingly already attracted a lot of attention at trade shows and exhibitions."
For more information on Axalta, please visit www.axalta.com. To keep up to date with the Brutal S1, follow the car manufacturer on Facebook www.facebook.com/brutalslovakia or visit www.brutalcar.co.uk.