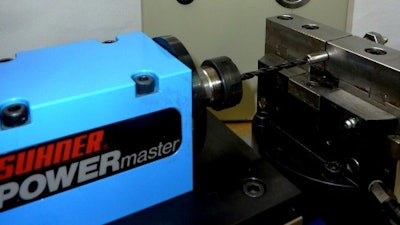 Suhner
Minimum-quantity-lubrication (MQL) cooling in chip-generating processes (drilling, milling, saw cutting and tapping) uses a small amount of lubricant/coolant (<0.7oz/20ml) of lubricant/coolant per hour).
Suhner's (Rome, GA) new Accu-Lube-Booster is a system for internal coolant-through-tooling for its machining units, including the BEM 20, BEX 15, and BEX 35.
Minimum quantity lubrication features:
In parts manufacturing, tooling-related cost is typically 7 to 17% of total cost when using traditional coolant emulsions. MQL reduces this percentage.
Reduction of friction yields higher productivity and increases efficiency in parts manufacturing.
Increased tool life leads to shorter and less frequent machine stop time.
Nearly-dry chips reduces cost of disposal or recycling.
Savings in running/replacing the coolant pump system, the coolant itself and energy costs.
Suhner's booster system (see expanded graphic in gallery above) uses an integrated frequency-generator controlling a precision metering pump.
A predetermined amount of oil flows inside the pressurized booster chamber at 90 psi (6 bar) and creates a lubricant mist.
This lubricant-air mixture (aerosol) is fed inside tubing to the coolant union at the machining unit.
From here, it flows through the spindle and MQL clamping system of an HSK spindle and tool holder system, finally ending at the tip of the cutting tool.
Discharged oil film reduces friction between the chips and the tool during machine processing. Most generated heat is absorbed and discharged with the chips.
While transporting aerosol mist from inside the machining spindle to the tool exit, it is important to discharge the lubrication mist in a controlled way; otherwise, desired lubrication effect of the tool will be reduced.
Boosters are adaptable and expandable for different and multiple applications.
For more information, visit www.suhner.com, or call 706-235-8046.