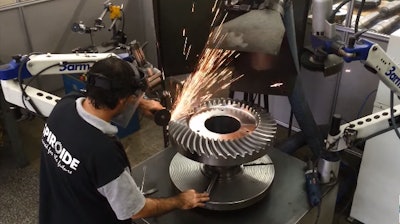 Technology to improve employee safety and productivity is developing rapidly and becoming cost effective for most machine shops. With an environment prone to accidents and repetitive injuries, if machine shops take smart action to automate or improve manual processes, it will pay significant dividends in the long run. It will be especially effective in terms of reducing lost days and worker compensation claims.
The US Bureau of Labor Statistics states that private industry employers reported 2.8 million nonfatal workplace injuries and illnesses in 2019. Of those injuries, 3.2 cases per 100 full-time equivalent (FTE) workers occurred in machine shops and related manufacturing. The BLS found that the median number of days away from work for an injured employee was eight days, which adds up to a significant loss in revenue, without accounting for the expenses incurred in worker's compensation claims.
According to the National Safety Council, the top three leading causes of work-related injuries – overexertion and bodily reaction, slips and falls, and contact with objects or equipment – account for more than 84 percent of worker injury and are all preventable. Many technologies can help machine shops improve ergonomics, injury prevention and safety. Here, we'll focus on three: automated deburring, pick and place manipulator arms, and industrial wearables.
Automated Deburring
Manual deburring techniques renders shop techs prone to injury. Operators can get carpal tunnel from constant repetitive movement. They can cut themselves, get splinters or injure their eye. In addition, several environmental, health and safety concerns arise from the dust and particle emissions produced by manual methods.
Utilizing a high-tech automated deburring solution using advanced tools such as ceramic fiber brushes is a safer option for machine shops. Plus, it provides a consistent and high quality deburred and polished product, which typically removes the need for separate polishing and QA inspection steps. It delivers the following safety benefits:

Prevents financial loss due to injury from using inefficient tools, using man-made tools and risking cuts from sharp edges.




Prevents injuries due to repetitive movements and from manipulating large heavy parts to be able to deburr in specific areas.

Increases safety with automated deburring placement in an enclosed box to eliminate the inhalation of metal dust or eye injuries and cuts due to metal threads.

Reduces the chance of injury in moving product around the shop – from the CNC machine to the work bench, to QA and polishing.
Ergonomic Assistance Arms
Ergonomic assistance arms can substantially reduce worker injuries and improve productivity by eliminating the heavy weight of tools and/or parts from the operator. Manipulator arms can be used to pick and place heavy items into a CNC machine. Other ergonomic assist arms can help in a variety of ways by holding devices such as grinding and polishing tools for metal finishing, to stirring 50-gallon tubs of paint, reducing the ergonomic stress on the operator.
Some of the safety benefits of using an ergonomic assistance arms include:

Improves safety by removing weight of the tool or part from the operator and helps

with strain of lifting and manipulating parts they're placing into a CNC machine.

Prevents repetitive injuries.

Allows social distancing, especially for two-person jobs that can be accomplished with one with the help of a manipulator arm.


Safety switch on arm allows the tool to be held without the possibility of dropping and injuring operator or the piece he/she may be working on.
Industrial Wearables
The industrial wearable technologies industry is booming with many exciting innovations to enhance safety and prevent injuries. This boom is driven by high injury costs and an aging and shrinking skilled workforce across industries labor-intensive industries like manufacturing, construction and machine shops. Industrial wearables are worth the investment as they reduce on-the-job injuries – and their associated costs. Some of the innovations available that are good investments for machine shops include:

Physiological status monitors reliably collect worker data in a warm environment and warn about the potential for heat stress.


Environmental sensors monitor air quality, including carbon monoxide, hydrogen sulfide, gas leaks, temperature, humidity and noise.


Personal dust monitors monitor indoor air quality and personal exposure in a variety of environmental applications.


Light-weight exoskeletons reduce the mechanical stress of manual labor but can be unwieldy and cost prohibitive. They range from chairless chairs worn on top of work pants that stiffen and lock in place to back support and alignment for bending down to perform a lift.


Powered gloves are added mechanizations to help workers gain a stronger hold on tools.


Smart hard hats

contain sensors to detect

falling or moving objects, such as a vehicle or equipment, coming into the wearer's vicinity.
Highly skilled and seasoned workers are valuable assets and represent a large portion of an organization's knowledge and expertise. Innovative technologies improve the safety of your machine shop, protecting your valuable assets by preventing injuries while improving quality and productivity.
Rob Johnson is the Vice President of IPT America – Xebec Deburring Technologies and 3arm America. Contact Rob at rjohnson@iptamerica.com.