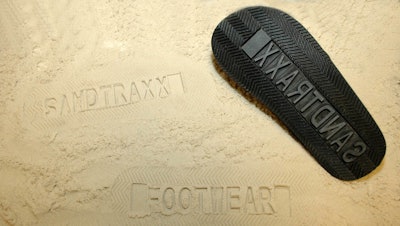 Waterjet systems manufacturer Jet Edge, Inc. is helping Minnesota inventor Jeffrey Wagener make his mark in the world, and on a beach near you. Wegener has begun production on his Sand Traxx changeable imprint sandals, which feature waterjet cut rubber components.
Wagener recently rolled out his new Sand Traxx Footwear company with a crowdfunding campaign on Indegogo.com. He needs to raise only $10,000 to get his start-up company on its feet. The funds will be used to make a new mold for the sandals' rubber characters, which will allow Sand Traxx to improve its characters so they fit better into a slot on the bottom of the sandals. It also will minimize scrap.
Not your ordinary flip flops, Sand Traxx are quality attractive leather sandals that allow their wearer to stomp a message in the sand without ever saying a word. Unlike other imprint flip flops, Sand Traxx wearers can quickly change and customize their message by simply changing out the rubber letters, which are securely fastened to a recessed slot on the bottom of the sole. Each pair of sandals comes with two sets of alphabets, eight spaces and two each of 1,&,#,$,? characters and a heart. Up to 10 characters can be placed into each sandal at a time.
With the assistance of Jet Edge President Jude Lague, Wagener has secured a reputable sandal manufacturer that makes other major national brands. While the sandals themselves are imported, final assembly is done in Minnesota, where the molded rubber letters are cut apart using an environmentally friendly Jet Edge waterjet cutting system and Velcro® is adhered to the letters and the soles.
To contribute to the Sand Traxx crowdfunding campaign, visit www.indegogo.com/sand-traxx-footwear beginning March 24. Once Sand Traxx reaches its $10,000 funding goal, contributors of at least $55 will be rewarded with a pair of Sand Traxx, 72 characters, and a cotton bag. In addition, Sand Traxx has set up several perks for contributors of various levels.
-30-
Jet Edge, Inc. | 12070 43rd Street N.E. | St. Michael, MN 55376-8427 U.S.A.
www.jetedge.com | 800-JET-EDGE | [email protected]