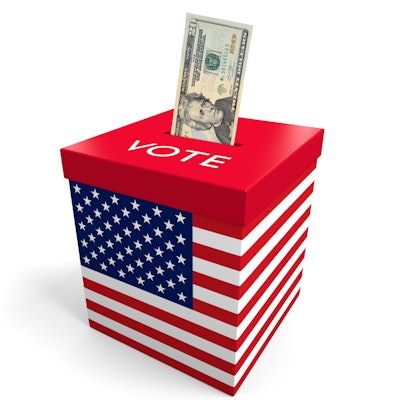 The 2012 presidential election saw each candidate set new records for spending. Both individuals, as a result of personal fundraising and political party support, saw their respective campaign war chests soar above $1 billion. Early projections for this fall's showdown have these figures more than doubling.
Researching these financials reinforced my frustrations with one of the many broken elements negatively impacting the priorities of our political system. As in addition to funding the influx of promotional elements that will prove equal parts annoying and repetitive, is the clear fact that this money could be used in any number of more productive ways. With all due respect to the charitable, educational, healthcare and individual services that could all use these exorbitant funds to make the world a truly better place, my mind went to the manufacturing sector.
Now, my goal is not to dispute or defame financial support of political causes or individuals. Nor am I looking to debate campaign finance reform or delve into issues around political deal-making that are best suited for a run on House of Cards. Rather, I'm simply offering some perspective on the scale at which this support is currently being channeled and to demonstrate how re-directing some of these efforts could potentially have a greater impact on a prominent economic sector.
So let's take a conservative stab and say the candidates will each have $1.5 billion at their disposal to win that dream job on Pennsylvania Avenue. What would those funds mean to the average U.S. manufacturer, and the industrial engineering sector as a whole:
According to the National Association of Manufacturers, the average manufacturing worker earns just over $79,000/year. That means each candidate could potentially sponsor just under 19,000 manufacturing jobs with the money they spend on travel, media, rallies and those amazing campaign buttons.
NAM also states that every $1 invested in manufacturing results in $1.40 added to the economy. So, again, if these funds went towards the manufacturing sector in the form of robotic work cells, automation investments or HVAC facility improvements, to name a few possible options, each candidate could stimulate over $2 billion in economic gain.
Using some additional NAM data, the organization expects more than two million high-tech manufacturing jobs in the U.S. to go unfilled over the next 10 years. A two-year Associates Degree in manufacturing technology can run, on the high side, about $20,000 per student. Using the funds that one of these candidates generates could train 75,000 Americans in addressing this skills gap.
Although the size of the organization and the scope of its needs will cause this figure to fluctuate, the average full-fledged, non-cloud ERP software implementation will run a manufacturer about $90,000. Access to $1.5 billion would help provide this assistance to 16,000 U.S. manufacturers – allowing them access to more data in improving quality, streamlining procurement, responding more quickly to supply chain disruptions and improving overall purchasing, production and distribution functions.
More specifically, how about 10,000 Hass VF-5/40TR 5-axis vertical machining centers or 42,000 Statasys 1200ES 3-D printers. Both could help mid-size U.S. manufacturers greatly improve their global competitiveness.
There's no limit as to how many of these comparisons could be made. I guess as we continue to hear the political rhetoric and stump speeches about the importance of manufacturing in the United States and how each candidate is best positioned to preserve these jobs, it would be interesting to see these individuals and the parties they represent truly put their money where their mouth is.