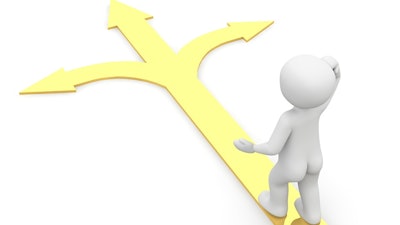 How many of you struggle with excessive time-to-market (TTM)? There seems to be much confusion about just how important making timely decisions can be to the success of a product or an entire business.
Over the years, I've seen poor decisions made in haste which caused unnecessary delays. Unfortunately, I've seen more decisions avoidably delayed and causing significant loss in momentum.
This chart (see gallery) describes the Point of Maximum Effectiveness (PME). The Y axis is labeled effectiveness, which I define simply as getting the right things done. The X axis represents time, which in this case is the time it takes to make the decision. Each region in this chart has its benefits and detractors, but there is only one point where the sum of the benefits outweigh the sum of the detractors. This point is the Point of Maximum Effectiveness.
Region One
In region one, the decision is made too early in the process. This occurs most often when the leaders demand rapid decisions with the belief that this keeps the project moving. It does keep the project moving, but the risk is that it often moves in the wrong direction.
Here are three reasons why making a decision too early occurs in many firms:
Too little data to make a properly informed decision.
The schedule does not require it, or it is not on the critical path.
The team or committee has not come close to a conclusion.
If you make decisions while in Region One, you risk:
Rework
Schedule delays
Confusion throughout the project team, and possibly the firm
Wasting valuable resources
Region Two
Region two represents the delayed decision. In this case, the decision is made later than the PME and thus lesser business results are obtained. Firms make decisions later than the PME for a few reasons, primarily:
The tolerance for risk is too low.
Failure in not tolerated.
The committee has conflicting goals and cannot come to an agreement (teams, on the other hand, have complementary goals).
If you make decisions in Region Two, you risk:
Lost business opportunities
Lost project momentum
Schedule delays
Confusion throughout the group, and possibly the entire firm
Wasted resources
The Point of Maximum Effectiveness
The goal of any successful organization is to make the best use of its resources to best serve its customers; any other goal is simply a waste of resources. One of the better ways to accomplish this is to make good decisions at the most opportune time.
When a decision is made at the PME:
The team achieves an 80% confidence point.
A critical mass of data is accumulated and analyzed.
Ample time is still available for a course correction.
The most effective decision is the one that maintains or increases momentum while minimizing the most important risks, to do otherwise only squanders the organizations resources, talents, and morale.