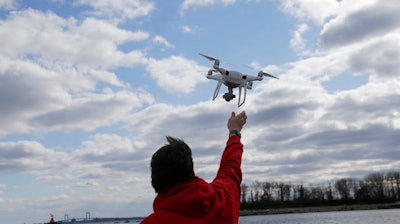 AP file
NASA Nixes Mission Due to Shaky Leaky Seal Deal
It's tough enough to engineer and manufacture components for use in factories on Earth. Moving the service environment 128 million miles away makes things light years more challenging. Consider the seismometer, for instance. It's not rocket science—unless it's for use on Mars.
NASA's InSight spacecraft, was scheduled to depart in March for a one-way, six month-long trip to the Red Planet. According to this interesting read at ABC News (via the Associated Press), that particular mission's been scrapped because of a problem with a protective pouch around the lander's seismometer…
The three sensors on the seismometer need a vacuum seal around them to withstand the harsh, frigid Martian environment. Leaks had showed up during previous tests and mission team members thought the problem had been fixed. But the latest tests this week showed another leak of unknown origin.
Just reengineer the parts and get on with things, right? Well, not really. NASA managers said that a redesign could take (I'm serious, here.) up to five years—after 'several months of analysis and discussion.' The next window of launch opportunity comes along in 2018, but making that go-'round seems unlikely.
In what must've involved the world's greatest RMA ever, the spacecraft will be sent back from California's Vandenberg AFB to a Lockheed Martin plant in Denver. (I wonder who's covering the return shipping charges on that one?)
'To the Moon, Alisa!' Postponed 'til at Least 2025
Russia's so called 'Moon Program'—eventually involving manned flights, a lunar complex and orbital station, a new lunar space suit, and system of robotic software—has been put off until at least 2025, according to this article at Sputnik News. Why?
(No, not because Nazis might already be there.)
Apparently, the long, long postponement is a cost control measure that'll save about $1.2 billion US (88.5 billion rubles).
It's looking like 2015 is a go for an unmanned mission, with a manned landing planned for 2029.
FAA Expands Whoville (DC) No-Fly Zone; Shuts-Down Drone Clubs
If there was a slick, shiny, new quadrotor under your Christmas tree, you'll of course have to register it with the FAA. According to this article at the New York Daily News, the agency's registration help hotline was 'buzzing' with calls on December 26. It was expected that folks would quickly want to register their 400,000 new quadrotors. Things get more complicated, though, if you live near Washington, DC—which is home to the most restricted airspace in the country.
In September, according to this FAA article, the agency extended DC's 15-mile buzz-free airspace to 30 miles…
…to reinforce the message that the District of Columbia and cities and towns within a 30-mile radius of Ronald-Reagan Washington National Airport are a No Drone Zone.
Recently, according to this article at Motherboard, the FAA again ramped things up by shutting down 'every drone club' within that 30-mile area.
Many of the clubs exist in huge fields many miles outside the Washington, DC border in suburban Maryland and Virginia. Fourteen of the 36 sites are accredited by the Academy of Model Aeronautics [AMA], meaning they generally comply with baseline safety guidelines and are not located near airports.
Christopher Vo, president of the DC Drone User Group—whose very existence is threatened by the latest actions—said…
"In 2016 we're going to try to do more indoor flying events to get around DC area restrictions because the demand is so high to find a place to fly. Many of these fields could be down and out for many more months to come."
Additionally…
"We have every reason to believe that this is a temporary situation," the AMA wrote in an email to its members. "Persons operating aircraft within the SFRA are subject to civil penalties and or criminal charges."
While I can certainly understand the many, completely justifiable reasons behind the move, the FAA's gonna be the Grinch to many. Hey, they're just trying to keep things safe. I mean, people have already weaponized quadrotors
App Development Consideration: Apple Wins Christmas
It should come as no surprise to app developers, even those in the industrial and manufacturing world, that Apple again ran away with a big Christmas win this year thanks to their iPhone line. Here's the surprising part: this year's success was thanks mainly to Apple's large phones (or phablets), including the iPhone 6s Plus.
According to this article at Phys.org, Jarah Euston, VP at Yahoo-owned analytics firm Flurry, said… "But that's not the whole story. When we examined the form factor distribution by operating system we saw that for the first time phablets accounted for half of all Android devices! The popularity of the Samsung Galaxy Note and its imitators have changed the Android game, especially in Asian markets."
Remember when our Galaxy Note phones were just too big? I took a lot of ribbing as a Galaxy Note early adopter. "That's like the digital equivalent of a clown shoe," someone once commented. Even the late Steve Jobs thought bigger was ridiculous, commenting in 2010 that 'no one's going to buy a big phone.' He even called them Hummers. Clearly, Jobs 'turned out to be completely wrong,' according to this Business Insider article from 2014.
But even the new iPhones require finger-painting instead of the use of a nicely integrated stylus.
The Galaxy Note stylus works so well, especially for engineers and scientists that, despite Jobs' "over my dead body" reference, Apple introduced the Pencil—but only for the top-of-the-line iPad Pro. (This Tim Cook guy might work out.)
Apple might want to consider its most recent demand for $180-million more from Samsung, and instead say something like "Thank you, Samsung. You had the guts to pursue a completely different direction—from which Apple profited greatly."