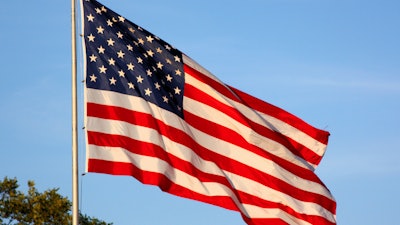 Flickr
It's not just in our imaginations. People really are looking to buy American, according to a recent nationally representative survey by the Consumer Reports (CR) National Research Center.

"Given a choice between a product made domestically and an identical one made abroad, nearly eight out of 10 of us would prefer to buy the American product," CR veteran journalist and marketing expert Tod Marks reported in an article released on the organization's website last week. "Moreover, 60% of respondents say they're willing to pay a 10% premium for the privilege of buying American."

Quality Counts

As many of us know, picking up almost anything on store shelves today becomes a real challenge when looking for items made here rather than in China or a host of other places that flood our markets with goods of varying content and quality.

But, the CR article listed a number of high quality brands made in America ranging from tools to technology to toys, including Ariens, Stihl and Troy-Bilt power equipment; Stanley hand tools; Maglite flashlights; Shop-Vac wet-and-dry vacuums; and Klipsch and Genesis Advanced Technologies products.

Other U.S. made products mentioned included Lionel Trains, Gravity skateboards, Wilson footballs, Crayola crayons, L.L. Bean's Maine Duck Boots; Red Wing and G.H. Bass footwear; and Stetson hats.

Where Danger Lurks

Meanwhile, almost every holiday season consumer watchdog groups issue lists of dangerous products produced overseas, many in China. Take, for example, the recent reports of exploding hoverboards.

Daily web magazine Slate.com, citing a lengthy report in BuzzFeed, reported recently that many, if not most, of the exploding hoverboard models are made—you guessed it—in China, specifically in the city of Shenzhen.

One telltale sign is that, while they resemble the high-quality, high-priced models that range upwards of $700 to $1,700, the low-priced $350 knockoffs with cheap batteries are the ones that appear to be catching fire, burning users and in some cases destroying houses.

Other cases of dangerous products imported from China and elsewhere often involve children's toys containing lead paint or tiny parts that pose choking hazards.

Consumer and B2B

Such disregard for product safety in order to flood the market with cheap knockoffs casts a negative view on overall quality of products emanating from offending countries and more American consumers today are looking for the quality and safety of domestically produced products.

And it's not just on the retail consumer side. Here at Industrial Equipment News, we receive somewhere between 50 and 100 press releases on new products every weekday, a growing number of them emphasizing that their products are 'Made in the USA.'

That's obviously developing into a key marketing strategy for many in the industrial community and an indication that it's a significant consideration among customers when weighing new equipment purchases.

Competition Is Healthy

Of course, that's not to say that industrial consumers, much like the retail consumers, are inclined to base purchasing decisions solely on country of origin. Quality and price remain as the key elements, but the current trend seems to be alerting both foreign and domestic manufacturers that they need to remain competitive on all fronts.

In addition, it's important to point out that foreign producers operating here are responsible for employing millions of American workers. In fact, the Organization for International Investment, which represents U.S. subsidiaries of companies headquartered abroad, has reported that such companies invest heavily in American manufacturing, accounting for nearly 20% of U.S. exports, and employing roughly 5.5 million Americans.

Paying the Price

Bottom line is that price, while important, doesn't necessarily outweigh other purchasing considerations today. Where and how well a product is made is carrying increasing significance.

In the end, that trend can serve to increase overall quality of products available on the domestic market, and go a long way toward improving quality of life across the board as well.

That's a warm, positive and healthy thought as we head through the festive holidays and toward a hopefully brighter 2016.