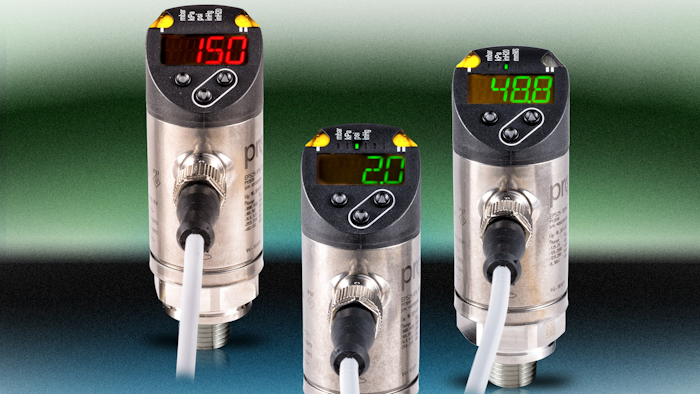 The ProSense line of sensing products from AutomationDirect (Cumming, GA) now includes the EPS series of digital pressure sensors ideal for industrial pressure measurement and indication in both gas and liquid applications. EPS-series sensors are available with measuring ranges from vacuum up to 5800 psig. Selectable engineering units such as bar, mbar, kPa, MPa, inches of water column, and inches of mercury can be shown on the digital display. Features include:
A compact and robust design and construction that withstands extreme shock and vibration, provides high accuracy and reliability, and incorporates the best combination of overpressure, burst pressure and long term stability for each measuring range.
A stainless steel housing, with a high IP67 ingress protection rating, and ability to achieve their atmospheric pressure reference at the 4-pin M12 electrical connection.

A standard 1/4" NPT male process connection, allowing for direct installation without requiring extra fittings.
No moving parts such as pistons or springs that can stick or break. Two solid state switch outputs provide a reliable alternative to mechanical pressure switches; on certain models, the second output can be configured as a scalable analog signal turning the unit into a combination pressure switch and transmitter.

A built-in two-color digital display that is easy to read from a distance and provides indication of measured pressure and switch setpoints.
www.automationdirect.com/pressure-sensors; 770-889-7876