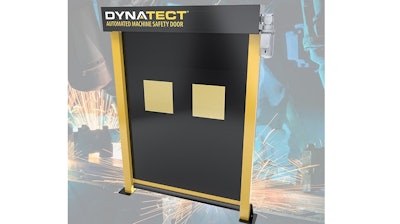 Dynatect (New Berlin, WI) introduces the new Gortite VF Door, included in a new line of Automated Machine Safety Doors. The Vertical Fabric door responds to the automation industry's need for machine guarding doors to keep hazardous processes like robotic welding separate from people, equipment and materials. This high-speed fabric roll-up door is intended for safe machine access and maximizing production time in automated manufacturing. Features include:
A design to support 3-week lead times, 1-hour field installation, multiple t-slot mounting surfaces and long-life non-contact sensors.
Conforming to OSHA guardrail requirements, the door's fabric curtain is retained in columns to minimize risk of falling through the closed door.
Standard with proximity switches that sense the end-travel for the door. Providing a physical and visible barrier, the door can be positioned closer to hazardous machines versus standalone light curtains. The result supports the trend toward a smaller work area footprint.
Door actuation is triggered via the automation governing the guarded-machine, has a standard speed of 44"/second, can complete two cycles per minute, and is developed for more than 1 million cycles. Additional sensor options, including a traveling photo eye, can be included to sense obstruction to door travel. Dynatect also offers a safety interlock option which meets PLe/Cat-4 safety requirements when combined with appropriate machine logic and conformance to risk assessment.
www.dynatect.com; 800-298-2066