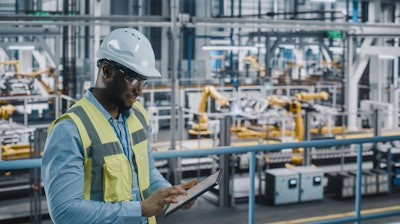 iStock
Retrocausal, a manufacturing process management platform provider, announced the release of LeanGPT, its proprietary foundation models specialized for the manufacturing domain.
The company also launched Kaizen Copilot, Retrocausal's first LeanGPT application that assists industrial engineers in designing and continuously improving manufacturing assembly processes and integrates Lean Six Sigma and Toyota Production Systems (TPS) principles favored by Industrial Engineers (IEs).
The industry-first solution gathers intelligence from Retrocausal's computer vision and IoT-based floor analytics platform Pathfinder. In addition, it can be connected to an organization's knowledge bases, including Continuous Improvement (CI) systems, Quality Management Systems (QMS) and Manufacturing Execution Systems (MES) systems in a secure manner.
According to the U.S. Bureau of Labor Statistics, Industrial Engineering is a $27B market in the United States alone. IEs design and optimize industrial processes by combining domain expertise, organizational knowledge and tedious manual observations such as time studies, ergonomics assessments and yield estimates, while reasoning in a Lean Six Sigma and TPS framework.
Insights generated by IEs are strategic to building efficient, adaptable and sustainable manufacturing businesses. Unfortunately, IEs are often struggling with workload, knowledge sharing and post-Kaizen analysis which limits their ability to maximize productivity, yield and quality, and ultimately limits the bottom line for the businesses they operate in.
"We trained Retrocausal's generative AI LeanGPT models on specialized knowledge needed for manufacturing," said Dr. Zeeshan Zia, CEO of Retrocausal. "Using our new LeanGPT-powered Kaizen Copilot application with our Pathfinder floor analytics platform gives IE's all the information they need to excel in their roles, including domain expertise, organizational knowledge and automated process observations, eliminating the need for tedious field studies or combing through unwieldy knowledge bases, while staying firmly rooted in Lean principles."
Kaizen Copilot can autonomously access the Retrocausal Pathfinder analytics platform through API calls to observe factory floor activity through computer vision and IoT sensors. It can also retrieve hidden insights from an organization's internal knowledge bases, either by just connecting to it or by "fine-tuning" proprietary LeanGPT models on it.
Retrocausal is also releasing Kaizen Copilot as a tablet application so industrial engineers can take it on their Gemba walks around the shopfloor. This app further embeds contextual knowledge into the tool to proactively offer help to IEs and assist in gathering worker feedback on problems and solutions.
The company is piloting its solutions with several Fortune 500 automotive, appliances, medical devices and electronics manufacturers. Results include improved first-time yields by 20%, reduced scrap costs due to assembly mistakes by 75% and reduced operator training times by 44%.
"This technology has revolutionized Process Management," added Dr. Zeeshan Zia. "Instead of starting a new assembly line at 65% yield, IEs can now obtain concrete guidance on how to push yield to 95% from day one. A Kaizen event performed at one station will automatically trigger notifications to relevant processes across an organization's factories and assembly lines as determined by the AI, unlocking the potential for massive revenue growth."