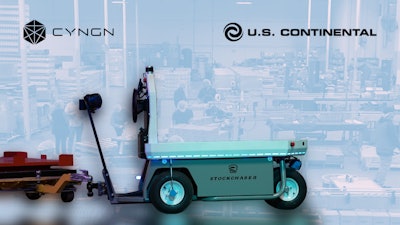 Cyngn
Cyngn, a developer of innovative autonomous driving software solutions for industrial and commercial applications, today announced it has been awarded a contract to provide self-driving stockchasers for U.S. Continental, a manufacturer of leather and fabric care products.
U.S. Continental will be utilizing autonomous stockchasers powered by Cyngn's Enterprise Autonomy Suite ("EAS") to transport pallets of materials throughout its main manufacturing plant in Corona, Calif., starting early 2023.
The global leather chemicals market size was valued at USD 7.4 billion in 2021 and is anticipated to expand at a compound annual growth rate of 6.6% from 2022 to 20301. The adoption of warehouse automation will allow U.S. Continental to meet growing demand and address supply chain issues and labor shortages.