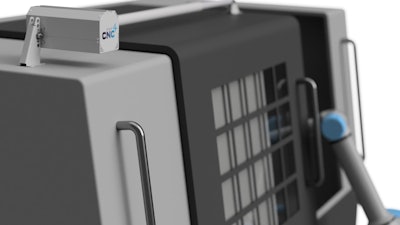 Made4CNC
Currently only a small percentage of the industry's CNC machines are automatically fed components. Most of the world's CNC machines rely on either the operator or the robotic arm having to physically open and close the machines' heavy doors every few minutes.
Investing in a new fully automatic CNC machine or upgrading an older model can be a tall order, both in practical and financial terms.
Made4CNC's first official product, the new Safedoor SD100 removes the barriers to the automation of component feeding at machine shops. Safedoor SD100 opens CNC doors that are up to 1 meter wide and weigh 400 kg, at a speed of 500 mm/s.
The door opener can connect to any robot and CNC machine make via galvanic insulated digital inputs and outputs.
Several end users and distributors have already caught the scent of a killer app and have started deploying the solution. The team behind Made4CNC, Thomas Visti, Lasse Kieffer and Peter Nadolny are three professionals well-known for disrupting the robot industry, having played integral roles in the success of Danish robot companies Universal Robots, OnRobot, Purple Robotics and Mobile Industrial Robots.