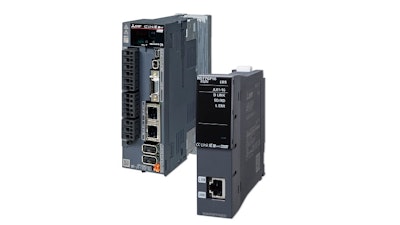 Addressing the need for integrating motion control, safety, I/O, variable frequency drives, and robots on a single open network with gigabit speeds, Mitsubishi Electric Automation, Inc. (Vernon Hills, IL) introduces the new RD77GF Simple Motion Modules and MR-J4-GF-RJ Servo Drives featuring an open CC-Link IE Field interface. According to the company, the RD77GF Simple Motion Module for the iQ-R Series controller is ideal for a range of applications from simple point table operation to advanced synchronous control, and provides easy programming for complex applications. Combined with the CC-Link IE Field compatible MR-J4-GF-RJ servo system, the RD77GF offers exceptional speed and performance. Key benefits include:
Gigabit CC-Link IE Field Network.
Superior motion performance.

Two communications modes for maximum flexibility.

Advanced synchronous control.
Single software solution.
The integration of RD77GF Simple Motion Modules and MR-J4-GF-RJ Servo Drives also provides One-Touch Auto-Tuning for fast, trouble-free servo tuning, and Advanced Vibration Suppression Control II to suppress vibration both on the load and the machine base.
us.MitsubishiElectric.com/fa/en; 847-478-2100