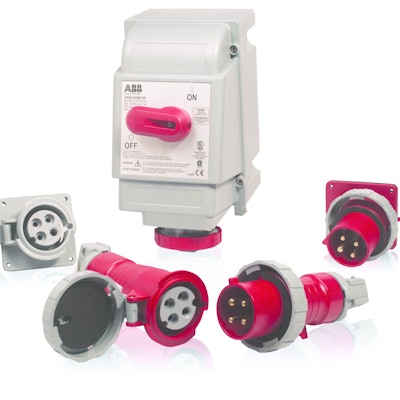 ABB IEC 60309 plugs and connectors are now IP69K rated, which is the highest dust and liquid ingress rating attainable, making the connectors ideal for liquid ingress protection. Features include:
The devices were placed on a turntable at a speed of approximately five RPM, sprayed at close range at a rate of four gallons per minute with water pressure between 1,160 and 1,450 pounds psi, at a temperature of 176 degrees Fahrenheit (80 degrees Celsius).
Safety measures include a double cable clamp system to prevent cable detachment and two screws at each terminal to maintain electrical connection.
The housing is made from a self-extinguishing (UL 94V0), ultraviolet (UV)-resistant (UL 746 F1) Valox® 357 material. The material is also highly resistant to chemicals like mineral and organic acids, organic solvents and petroleum.
Fiberglass-reinforced nylon is used for the contact carrier on devices rated between 60 and 125 amps.
A self-cleaning design keeps debris or dirt out of the electrical contacts to reduce down time.
For more information visit http://tnblnx3.tnb.com/emAlbum/albums//us_resource/RS_ABBIEC60309.pdf.