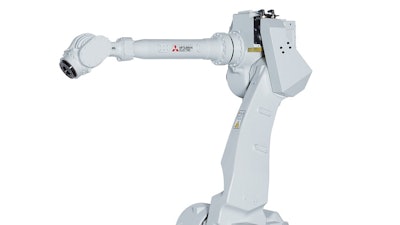 Addressing the need for higher capacity robots to meet the demands of today's advanced automated manufacturing processes, Mitsubishi Electric Automation, Inc. (Vernon Hills, IL) introduces the latest in its line of RV-F Series 6-axis robots in 35, 50 and 70 kg. These new robots extend the Mitsubishi Electric RV-F Series product line to address applications that require higher payloads and longer reaches, including CNC machine tending, large material handling and assembly applications. The new RV-35F, RV-50F, and RV-70F robots are especially well suited to the automotive, food and beverage, as well as electronic manufacturing industries. Key benefits of the RV-35F, RV-50F, and RV-70F robots include:
Higher payloads – allowing applications that require heavier parts and tooling to be robotically.
Long reach arm, so tasks can be spread farther apart and can accommodate larger parts and processes with the ability to extend up to 2050 mm.
Seamless integration with the Mitsubishi Electric Factory Automation (MELFA) hardware ecosystem, so it easily connects to MELFA's extensive offering of integrated automation.
Multiple environmental protection ratings – available in IP40 and IP67 protection ratings to conform to various application requirements.
https://us.mitsubishielectric.com/fa/en; 847-478-2100