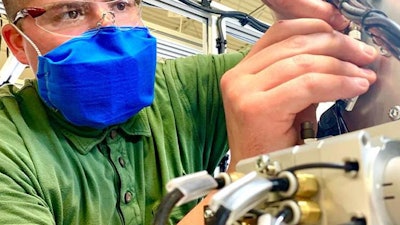 What keeps me up at night now is much the same as what kept me up before a global pandemic: we're a custom design and build company, so as we work to delight our current customers, we're always working to keep the pipeline full.
Short delivery times are getting even shorter; especially for end users producing much-needed personal protection and medical testing equipment. We're juggling just like everyone else; keeping relationships strong, keeping our workforce healthy and supply chain engaged and just-in-time - working faster than ever before.
That's because our customers must keep moving forward – in the new world, they are navigating new needs. They might need fewer machines than before, or twice as many. That requires us to be flexible.
Several recent orders have proven just how flexible and resilient we must become.
Our end user is developing rapid result kits to test for COVID-19. The faster we can create that machine, the faster it can be deployed to potentially save lives. Success depends on some things within our control – and many things outside of it. When we signed on to the project, we were confident we could find ways to shorten our design cycle.
What was out of our control was the stressed supply chain and the ability to get parts from around the world. That made our partner selection even more important. With our machine shop we could expedite certain parts, and we relied on the promises of trusted partners for the rest.
Our shop was full of work-in-progress for customers who needed their machines – and collectively agreed to wait a little longer to prioritize the COVID-19 machines. A look at logistics said we couldn't make this work; the patience of our other customers said we could.
No One Stands Alone
I am incredibly proud of our workforce, and all the ways they've changed how they work to accommodate a 'new normal'. I am also incredibly thankful for our partners. Our end user chose us because of our experience and our delivery promise. We chose our partners for the same reasons.
The Rockwell Automation platform – including programmable logic controllers (PLCs), software, servo motors and human machine interface (HMI) – is the quickest way for us to get our machines built and programmed. We've been using Rockwell Automation solutions for 30-plus years. I knew we could count on this relationship to deliver when we needed it most. They truly are living their brand promise of expanding human possibility.
As stressful as this experience has been – and continues to challenge us in new ways – we've become a better company for it. We have found ways to dramatically reduce delivery times – in some cases reducing build times by 50 percent. We can do it because everyone in our supply chain has found a way to reduce their lead times.
Our greatest learning from this is the power of our people – what they are capable of doing with each other and with our systems. This has been a true test of stamina, perseverance, partners and technology. And when put to the test, all of these were as robust as we had hoped them to be.
Ed Karabec is the President of Lanco Integrated.