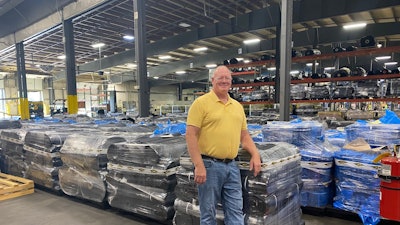 Automation is often thought of as an avenue to cut back on the number of people needed to perform a task or job. At WCCO Belting, however, we use automation in support of people and their processes to drive efficiency on our production floor. I view automation as taking the mundane labor and repeatability out of a process which also helps us avoid employee burnout. As tasks are made easier and manual means are reduced, so is employee fatigue.
Most of the equipment we use at WCCO Belting is custom-made, and it's likely the same machine or process has never been designed or built. One reason for this is that rubber has a memory. Take, for example, a rubber band. You can stretch it out to lengthen it, but it will eventually creep back to its original size. This makes creating processes for rubber products different than for materials in many other industries. Rubber is like a living part, so we need to create machinery that considers its unique properties, like its stretch.
One of the projects we have been working on is equipment to stretch the rubber and create an initial memory in the product so that it doesn't creep back to the wrong size. When a customer uses our belt, they can then tension it to the same memory point that it was made with. The machine we created removes unnecessary steps and labor from our process. Additionally, because rubber is so heavy, our employees were becoming fatigued doing this work by hand. The equipment we created allows us to put out two to three times more volume than when we were completing this task manually, and it frees up our employees for tasks that are more engaging and rewarding and less physically demanding.
In another example, we used to trim our custom-made belts by hand, but seeing that this task could be automated to help with precision and increase safety measures, we designed a trimmer machine. Now, we perform this process at the press stage, post-vulcanization, to trim to the correct specifications.
As our machines get time behind them, we think about refinements to further enhance the process. We concept, prototype, test, and look at how it's performing. If needed, we work on a second-generation version to enhance the machine capabilities further.
I liken automation to a long-distance runner. You can sprint fast, but you will get tired, and you need to remain steady since you're in it for the long haul. Automation helps even out our productivity, so we are performing at the same level from the first day to the last, much like a long-distance runner. Through automation, our employees don't need incredible strength or stamina. As an added benefit, we can utilize a larger group of people because anyone can essentially perform the job once they are trained.
The case for automation to enhance processes, and to achieve greater productivity, is clear. At WCCO Belting, automation has increased productivity using the same number of employees. And one employee can do the same task all day if needed, often because it requires less strength and physical endurance. As we have seen after automating certain functions, our output has grown, which benefits us and our customers.
About the Author

DuWayne Cookman is the Automation Engineer at WCCO Belting, Inc., a family-owned manufacturer of agricultural and industrial rubber belting and conveyor products located in Wahpeton, ND. In this role, Cookman designs equipment for in-house handling of rubber belting. Cookman has over 25 years of experience in automation, robotics and designing special machines. He holds five patents and three publications.