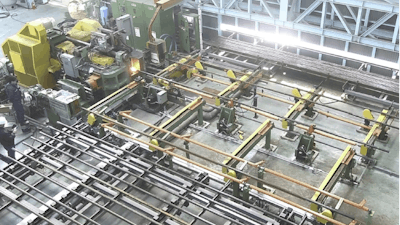 Ajax-CECO-Erie Press
As the nation's economy faces an ongoing labor shortage, automation will play a key role in bridging the labor gap for the forging industry. This is particularly true for Tier-2 metalworking shops, competing with larger OEMs and Tier 1 shops for the small talent pool of skilled workers.
According to the 2021 Business Outlook for Forging from Forging Magazine.com, "34.4% of all respondents indicate a general shortage of skilled labor has been a problem for their operations during 2020" and "31.7% of respondents will continue to worry during the coming year about the shortage of skilled labor."
For 2022, Tier-2 metalworking suppliers seem to be in an even shorter supply of skilled labor as businesses across a range of industries lament the Great Resignation, the trend of employees leaving their jobs in response to the pandemic and wage stagnation.
However, as with any manual labor process, automation changes the game. Despite lagging behind many other industries, the forging industry increasingly requires significant automation upgrades for new equipment and remanufactured/rebuilt models of everything from horizontal forging machines and vertical presses to hammers, and solid ball die forgers.
In doing so, tasks that were once performed manually such as moving heavy steel rods, pipe and other stock in and out of equipment are now automated, minimizing the requirement of skilled labor during the lingering shortage while improving worker safety.
For example, gone are the days when three men would lift a heavy steel rod with a glowing end into and out of a horizontal upset forging press.
Today, many manual tasks are replaced with the mechanical "hand," such as a robot or integrating servos that can lift, insert and deposit materials. Even tasks such as automated tooling changes can be completed with the push of a button.
Not only does this help to keep production going amid the current labor shortage, but also productivity is increased which becomes a competitive advantage.
By automating forging operations to perform some of the tasks of a human operator, productivity can increase from several hundred pieces per hour to up to 3,000, depending on the type of products being forged.
According to Bill Goodwin, Vice President of Sales and Engineering at Erie Press Systems, most project requests now involve some automation aspect.
"About 90% of the time, of the customers that we talk with today, they request equipment with an automation component," says Goodwin.
Ajax, CECO and Erie Press, all founded in the 1800s, offers a line of standard mechanical forge presses as well as individually engineered hydraulic presses for almost any application, including forging (closed die, open die, and ring preforming), metal forming, cold extrusion, isothermal forging, carbon extrusion, composite presses and stretch forming machines.
The company was acquired by Park Ohio and is now a part of the largest forging equipment supplier in North America: Ajax-CECO-Erie Press.
According to Goodwin, most automation requests are for control consoles and material handling and conveying equipment to transport the material into the press. This typically includes moving unfinished billets to a heating station, then into the press for the forging process and finally off-loading the finished forging into a bin.
Because automation systems can be work cell-based, it is also essential to involve an automation integrator when designing a system that includes infeed, press transfer and outboard post-processing, using robotics, conveyors, controls or electronics.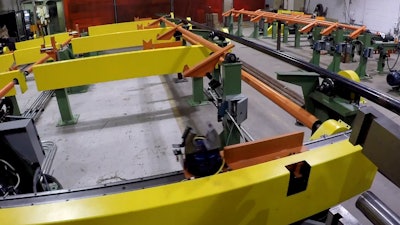 Increasing Automation
Modern Forge Tennessee sought to automate its presses successfully. A hot steel forging company that makes motorcycle parts for Harley Davidson, among other customers, Modern Forge, uses Chambersburg (CECO) die forgers that date back to the 1980s and weigh between 20 and 50 tons.
The company has more than 7,000 dies in its inventory.
"Forging companies like us are increasingly considering how we automate our presses to help our operators," says Wade Ferguson, maintenance manager at Modern Forge. "There is only so much an operator can do. With automation, robots and other motorized devices can move the part through the various stages of the process with more speed, accuracy and safety.
To continue to leverage its investment in existing equipment, it was understood that equipment is run hard and at very tight tolerances. As a result, Modern Forge decided to update and upgrade the consoles on its drop hammers to improve performance.
"We had some very good hammer units with some very outdated controls," said Wade Ferguson, maintenance manager at Modern Forge. "We knew that if any of the parts in the consoles went down, we would be offline for a while."
Aware that the Ajax Manufacturing Company had purchased the intellectual property of Chambersburg Engineering (CECO), Ferguson decided to reach out to them for the automation upgrade.
"Ajax-CECO was able to build the new panels, create the necessary software to run it, and calibrate it all to our specific needs," says Ferguson.
According to Ferguson, Modern Forge of Tennessee may also install a robot on its trim press to handle production delays impacting the quality of the trim removal.
After observing operators determine how long it took to trim each part, management discovered that when the workers got tired, the work slowed considerably and they would get behind.
In addition, when too much time passed between parts, the platters would cool off enough to make trimming difficult. So after the hammer operator completes the forging, the robot will pick up the item and trim it consistently each time.
At the Eaton Corporation forging operation in Kearney, Nebraska, the company operates twenty-six Ajax-CECO 100 to 1300-ton forging presses. Eaton remains one of the top engine valves and precision gears producers for the North American automotive industry.
The Kearney facility also manufactures precision-forged parts for agriculture, marine, ATVs, automotive and heavy-duty.
As part of a two-stage process for engine valves, a round steel slug is formed into an "onion-head" shape using a forging die press. The item is then transferred to a re-strike die, forming into the final product.
For many years, the transfer from the first to the second stage of the process was performed manually by an operator at the machine.
Approximately six years ago, Eaton undertook a project to automate so that the operator only needs to push a button and a robotic arm completes the transfer. The upgrade was applied to fifteen of the Ajax-CECO presses explicitly used to produce the engine valves.
According to Randy Kreutzer, former lead maintenance manager at Eaton, the primary driver for automating was worker safety.
"You have a person sitting in front of a press that theoretically could be injured if something went wrong," explains Kreutzer. "Now, we have them out of that scenario. They're still there, but they are behind protective shields and only there in case of adjustments that need to be made."
Kreutzer adds that there was a benefit in increased productivity as well because it allowed Eaton to run two presses instead of just one.
"We are constantly updating our equipment," says Kreutzer. "The industry is moving past the mentality of having someone do all the manual labor and instead, letting technology take over. That's the drive in the industry right now."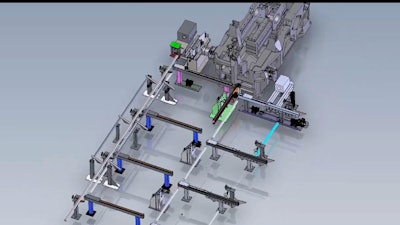 Steps for a Successful Automation Project
According to Erie Press Systems' Goodwin, it is important to include a skilled automation integrator and follow certain steps to ensure a successful automation project.
With the current labor shortage, most OEMs want a turnkey system with all associated systems so they can start forging parts quickly with minimal installation requirements.
When tackling your first automation project, the best approach is first to identify which forgings in your part families would produce the highest ROI by automating the process.
Usually, this means selectively automating forged components in part families that are similar in size, shape and features. Part size and intricacy will invariably drive-up costs, so this should be considered.
A clear scope of work that includes the purpose, expected functionality, expected outcomes and specifications will reduce scope creep and subsequent cost overruns.
Once the range of parts is determined that will be forged on the equipment, the manufacturer should assign a project leader (ideally a mechanical engineer) who can work directly with the automation integrator to exchange information and make decisions about the parts and systems to be installed.
This type of partnership is particularly crucial for automation projects with more complex elements such as robots or control elements. Although shop operators should be included in discussions, Goodwin says management plays a critical role in the project's success and needs to be on board and involved from the beginning as well.
Next, the automation integrator and the customer should define the project, including the timing and specification of parts needed.
In addition, a safety review is mandatory when considering the plant requirements related to forging system features. Robotic elements, for example, require safety perimeter fencing and any opening of these gates during operation will mandate a system shutdown.
When all the information is gathered, it is included in a proposal drawing and the request for quote (RFQ). The final step is to review the layouts as they are presented, make any amendments and complete the approval of the system design.
Addressing the Skilled Labor Shortage
As the current forging industry skilled labor shortage continues, proactive suppliers will increasingly automate processes to reduce their reliance on manual labor. The approach is particularly strategic today and will position Tier-2 metalworking shops for greater productivity and safety far into the future.