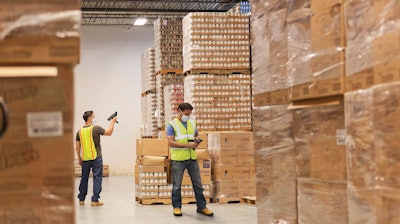 Zebra Technologies
Warehouses are undergoing a transformation as supply chains prepare to meet the growing demands from the world's new favorite way of shopping, e-commerce. By the end of 2021, e-commerce is estimated to be a $4.8 trillion market worldwide, leaving many warehouse operators struggling to bridge the gap between their current workforce levels and actual labor needs.
Right now, many warehouses are understaffed, making it difficult for supply chains to holistically meet faster delivery requirements and manage the rising rates of returns brought on by widespread click-and-collect and home delivery services.
Many organizations have started to automate their operations in hopes of overcoming these recent obstacles, seeing it as the best and easiest next step to scaling once business systems are digitalized and workers are mobilized with the right computing and scanning devices. In fact, it is estimated that by the end of 2021, the warehouse automation market will grow by almost 38% since 2019 to reach $19.5 billion.
As more warehouse operators move further along in their adoption strategy, the warehouse automation market is estimated to cross more than $37 billion by 2030. Manufacturing, logistics and retail leaders looking to keep up with competitors and growing consumer demands must take part in the movement toward warehousing automation to increase fulfillment capacity.
There are three key things every organization should consider before taking this next step forward: the need for balance, enhancing the worker experience across generations and the growing importance of prescriptive and predictive analytics.
Achieving Balance
According to Zebra's Warehousing Vision Study, over 70% of respondents believe the most optimal balance in the warehouse is through partial automation and augmentation. In other words, embracing automation might be as fundamental as pairing workers with technologies that support their primary workflows.
There are many flavors of mobile computing, printing, barcode scanning and radio frequency identification (RFID) devices each designed to automate data capture, collaboration and decision making within specific processes.
These solutions, while helping operations run more smoothly, do not take jobs away from workers but rather complement and enhance their skills. They help improve the speed and accuracy with which workers perform each task and can free them up for higher value work by reducing the time spent on manual inputs.
This same balance can be achieved at an even greater scale as augmented reality (AR), Internet of Things (IoT), sensors, intelligent automation and industrial automation technologies are incorporated. In fact, many of these advanced automation solutions, when properly orchestrated within workflows, can fully assume both the mundane tasks and more challenging business requirements that are probably more suitable for machines than humans.
For example, cobots can just as easily run picked items to packing stations, giving people the freedom to keep working through pick lists – the first step to getting orders out the door faster. And modern machine vision cameras and fixed industrial scanners can be configured so workers only have to intervene during quality control checks if packages and labels fail automated visual inspections.
Along those same lines, automated environmental monitoring sensors that provide near real time data in a centralized dashboard help take the guesswork out of the temperature or humidity monitoring processes.
They also eliminate the need for workers to constantly make rounds to read wall-mounted thermostats or manually take the temperature of equipment or goods, a very subjective and error-prone process.
Whether warehouse operators decide to implement one or all of these solutions, the end result is the same. Workers can finally concentrate their time and energy on activities that require human acumen and strategic decision making to improve business outcomes and deliver better customer experiences.
Enhancing the Worker Experience
for All Generations
As any warehouse operator knows, it can be difficult to attract, hire or retain workers. That's why it's so important to empower both experienced professionals and digital natives to work smarter, not harder.
The best way to do this is by choosing technology that completely supports them. For example, automating key components of logistics processes, such as data capture and analysis, quality control inspections and order movements can help warehouse operators attract and retain millennials who will make up 75% of the workforce by 2025, as more automated workflows will enrich their work experiences.
Studies show employees with high job satisfaction and morale tend to be more productive, which is a win for warehouse operators trying to get ahead of demand. In fact, 79% of respondents to Zebra's Warehouse Vision Study agree warehousing will become a more desirable career path because of the technological transformation taking place.
So, when looking to attract and retain new talent, especially the "digital natives" sweeping the workforce, think about employing solutions that help them consistently attain faster and more accurate results.
The Growing Importance of Predictive Analytics
Automation is typically thought of as a tangible product such as a cobot roaming the aisles or advanced industrial scanners. However, both prescriptive and predictive analytics are becoming an increasingly critical part of warehouse automation, with nearly a third of industry leaders looking to implement predictive analytics for inbound and outbound operations (36%) and utilizing machine learning (33%) in the next few years.
Predictive analytics provides a high-level analysis of historical performance and market trends to help teams understand what adjustments should be made to increase efficiency and effectiveness moving forward to improve outcomes.
Also important are prescriptive analytics solutions which determine, and then articulate to warehouse operators, what is happening right now, why it's happening and what should be done about it. The system then prompts the right workers to take action, telling them "the next best move" to take to successfully resolve issues or maximize opportunities.
The Big Picture Impact of Automation
Humans play a vital role in the execution of warehouse operations. The cobots and automated systems working alongside them or behind the scenes are giving them an advantage as the pressure builds to do more each day.
With trivial assignments being delegated to machines and decision making becoming more collaborative, workers will be able to complete the most critical tasks in a highly prescriptive manner to keep operations running smoothly.
Andre Luecht is the Global Practice Lead for Transport and Logistics at Zebra Technologies.