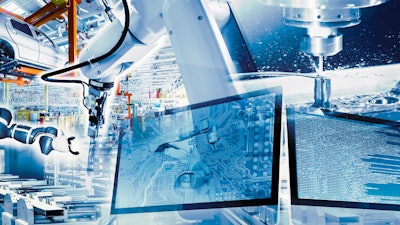 By now, most every end user and original equipment manufacturer (OEM) taking advantage of industrial automation systems is aware of the industrial internet of things (IIoT) concept and trend. Digital transformation initiatives incorporating the IIoT promise to deliver extensive data, leading to a better understanding of how systems are operating and how they can be improved.
Along with IIoT implementations, key process indicators (KPIs) can help paint the picture of how systems are running and where they can be improved. Knowing this, there arises an opportunity to closely link IIoT strategies with the need for improved KPIs. By providing better support for the KPIs they already need and use, IIoT strategies can be leveraged as a practical tool for accelerating productivity and reducing costs.
Start with the Basics
One of the most important KPIs for any operation is downtime because reducing it cuts costs and increases throughput. Therefore, a positive first step is to first track downtime. Once the status of downtime is understood, then the root causes can be progressively identified and eliminated.
Manufacturing equipment often has wear components such as rotating elements. Failing to maintain equipment can lead to unexpected and costly downtime, while maintaining it prematurely causes unnecessary downtime, along with added material and labor expenditures. To optimize maintenance, users must understand the asset conditions by monitoring operating parameters and identifying deviations that could signal degradation. Moving from reactive or scheduled maintenance to condition-based maintenance brings a set of benefits which include reducing unplanned downtime, increasing equipment reliability, minimizing inventory cost, and improving resource utilization.
A Practical Approach
Programmable logic controllers (PLCs) have traditionally been used for real-time control but not for implementing higher level IIoT communications and analysis. This is now changing as IT computing methods are merging with operational technology (OT) platforms, resulting in capable edge-located IT/OT controllers.
For new systems, these edge controllers provide traditional control in conjunction with advanced data handling abilities in a single edge-located platform. Current systems can be retrofitted with edge controllers installed in parallel with existing automation to obtain the most important data from legacy hardware and newer IIoT devices (Figure 1).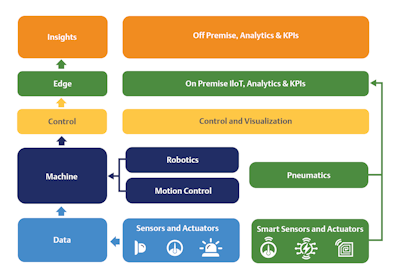 Installing edge controllers for new or retrofit projects provides a path to easily obtain the necessary data, effectively making the entire industrial automation system IIoT-capable. In addition to basic equipment or process automation information, these controllers make it possible to tie in other external data sources, such as environmental conditions, that may be relevant for comprehensive analysis.
Improving Reliability with the Right Information
Modern edge processing makes it easy to place data gathering and computational capabilities right on the premises and close to the source, making information readily available to operators and maintenance personnel so they can make timely decisions on site. Most projects begin by developing a "dashboard" of the KPIs so users can gain an understanding of machine performance and health.
On-site personnel need this information to make informed decisions about operational and maintenance practices to reduce downtime and make other improvements. Another level of value is achieved when modern edge controllers can make dashboard KPI information available to subject matter experts throughout the organization via the cloud. Off-site experts may find other insights and are positioned to evaluate a fleet of similar assets throughout a geographically distributed operation.
End users and OEMs may still feel that the IIoT is a vague concept as it relates to their industrial automation systems, but most are very clear on the KPIs already being handled via clipboards and spreadsheets and used to better understand their operations. Therefore, an IIoT strategy targeted to obtain and deliver KPIs is a practical and valuable approach for a digital transformation initiative.
About the Author
Silvia Gonzalez is a solutions development leader for Emerson Machine Automation. She is responsible for creating, developing, and driving solutions-oriented approaches for translating end user challenges into improved operational performance. Silvia holds a bachelor's degree in Electrical/Electronic Engineering from Universidad La Salle, Mexico, has received a Digital Business Strategy certificate from MIT, and is based in Houston, Texas.