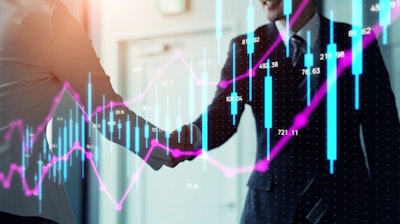 iStock
Nano Dimension has made a formal, non-binding offer to acquire Stratasys for $18 per share in cash.
As expressed in Nano Dimension's announcement on July 18, 2022, the company views Stratasys as a strategic, complementary asset in the relatively mature polymer-based AM market segment. The proposed transaction would create a market leader with portfolio of materials, software, and deep learning with a go-to-market strength in the form of sales channels. Nano Dimension's management has held constructive, informal discussions with Stratasys regarding the offer and the merits of the combination.
Under the terms of the proposal, Nano Dimension, which has been the largest shareholder of Stratasys since July 2022 and currently owns approximately 14.5% of Stratasys' outstanding shares (13.7% on a fully diluted basis), would acquire the remaining shares of Stratasys for total consideration of approximately $1.1 billion in cash. The offer price reflects a premium of 36% to the unaffected closing trading price as of March 1, 2023, and a 31% premium to the 60-day VWAP through March 1, 2023. The proposal delivers immediate and certain value to Stratasys' shareholders and vastly strengthens the company's ability to capitalize on opportunities and navigate the challenges of the current environment.
Stratasys is positioned as a leader in the developed market for premium polymer-based 3D printing systems, material and consumables, with fused deposition modeling (FDM) and PolyJet AM machines for prototyping, while Nano Dimension is a pioneer in the high growth segments of 3D printing for some of the most challenging applications, including electronics, microfabrication, and high-performance components. The combination will create an unmatched platform with an unrivaled portfolio of AM for manufacturing capabilities, complemented by a new suite of high growth products which, when combined, best position the Company for continued success.
"We have great respect for Stratasys' business, including Chief Executive Officer, Dr. Yoav Zeif, who we believe is the architect of Stratasys' recent positive momentum. Together, Nano Dimension and Stratasys can offer an increasingly exciting set of solutions for customers while becoming better positioned to compete in the AME and AM industries. We believe this is an exceptional opportunity for all stakeholders – shareholders, customers, management, employees, and business partners – of both companies. In recent years the AM market has grown in size and accelerated remarkable technological advancement, and it is on the cusp of its next phase of development and growth. Bringing Stratasys and Nano Dimension together is about positioning both companies to succeed as a combined company and lead the industry into that next phase. With Nano Dimension's strong culture of innovation and track record of successful merger integration, we expect to unlock significant value for all stakeholders. We look forward to continuing our discussions with Stratasys to reach a mutually acceptable transaction," said Nano Dimension CEO Yoav Stern.