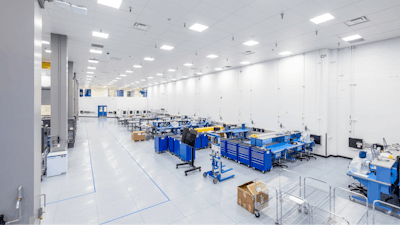 Boeing
Boeing on Monday unveiled a new high-throughput small satellite production, integration and test facility designed for efficiency and rapid delivery timelines.
Located in the world's largest satellite factory, Boeing's 1-million-square-foot (92,903 square meter) El Segundo facility, the small satellite production line will be powered by Boeing subsidiary Millennium Space Systems.
The companies are applying advanced and additive manufacturing techniques, including 3D printing entire space-qualified satellite buses, to offer faster cycle times while improving performance.
Millennium's team will staff the small satellite factory, bringing the subsidiary's proven processes and infrastructure, in addition to environmental test capabilities tailored to small satellites. Boeing will also provide access to environmental and specialty testing capabilities that have qualified some of the most iconic spacecraft, including the first vehicle to make a fully controlled soft landing on the moon and more than 300 satellites.
Designed to build small satellites for different security levels on the same assembly line, the digitally defined small satellite factory incorporates model-based systems engineering, digital design engineering, and design for manufacturability.
Initial operating capability took place in Sept. 2021, and the small sat factory's full operational capability is expected in late 2022.
Founded in 2001, Millennium Space Systems delivers prototype and constellation solutions across advanced national security and environmental observation missions.