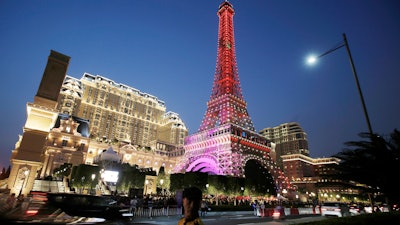 AP Photo/Kin Cheung
HONG KONG (AP) — Taking security to a new level, Macau is stepping up security checks at ATMs in the Asian gambling hub by requiring facial scans and ID card verification for cash withdrawals using China's main payment network.
The government said in a statement late Sunday that the new measures would eventually be rolled out to all automated teller machines in the former Portuguese colony, especially those inside casinos or nearby. It didn't give a specific timeframe.
The specially administered region, an hour by ferry from Hong Kong, is the only place in China where casino gambling is legal.
The measures apply to users of UnionPay bank cards issued in mainland China, in a sign that authorities are targeting mainland visitors. UnionPay is China's homegrown payment network rivaling the Visa and MasterCard systems.
It's the latest move by authorities in Macau and Beijing as they try to stem the outflow of capital from the mainland. Officials have already tightened up scrutiny of junket operators, the middleman who act as an informal banking channel by lending money to mainland visitors to Macau and later collecting debts.
The announcement came just ahead of a visit by Zhang Deijiang, the Chinese Communist Party official responsible for overseeing the city. Zhang, who arrived Monday in Macau for a three-day visit, said the city was facing a "significant phase in its development."
Macau is the world's biggest gambling market and its monthly casino revenues have expanded for nine straight months after a two-year slump. The city's casinos have raked in $10.4 billion so far this year.