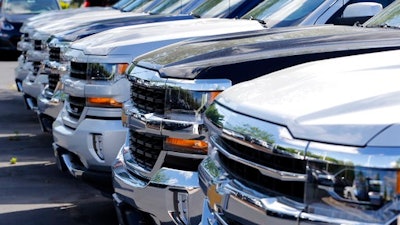 AP Photo/Steve Helber
DETROIT (AP) — Ford, General Motors and Toyota all reported U.S. sales declines in April, strong signs that demand for cars, trucks and SUVs is starting to slow after seven straight years of growth.
Ford's sales fell 7.2 percent, dragged down by car sales that tumbled over 21 percent. At General Motors, sales were down 5.8 percent as strong performances for some SUVs and the Cruze compact car couldn't offset falling pickup truck demand.
Toyota reported a 2 percent sales decline for the month as healthy sales of the RAV4 small SUV were overcome by falling demand for cars such as the Camry and Corolla.
Industry analysts expect April sales to be down anywhere from 2 percent to 4 percent, but still run at a healthy annual rate of around 17.1 million vehicles. Kelley Blue Book says it looks like 2017 U.S. sales will fall short of last year's record 17.5 million for the first annual sales drop since 2009.
While sales still are healthy, automakers are offering deals to compete for a piece of the shrinking pie. But there are signs that the industry is relying too heavily on incentives.
The average price paid per vehicle is starting to wane after years of steady increases, even for popular SUVs. Previously SUV prices kept growing while car prices fell due to sagging demand.
The average price paid for an SUV in April was $33,165, according to the consulting firm J.D. Power and Associates. That was down 2 percent from last April. One reason for the decline was that more customers were buying smaller, less expensive SUVs this year. But another was a whopping 18 percent increase in incentives, which hit $3,338 per vehicle.
Jeff Schuster, a senior vice president at the forecasting firm LMC Automotive, said automakers are fiercely competing so they don't lose sales in the hot SUV market. But that can lead to inflated demand, overproduction and ever-higher incentives.
"This will have to balance with natural demand at some point relatively soon or the industry will be heading into potential troubled waters and unhealthy habits," he said.
Before the 2008 financial crisis, automakers were relying on incentives to boost sales and preserve market share, to the point that they were losing money on some models.
Last month, incentive spending was up 11 percent on cars, to $3,903 per vehicle. The average price paid for a car was $25,516, which was about the same as last year.
Pickup trucks were the only segment in which automakers offered fewer deals. Incentive spending was down 6 percent to $3,276 per vehicle. Customers were willing to pay $31,438 for a pickup in April, which was 1 percent more than a year ago.