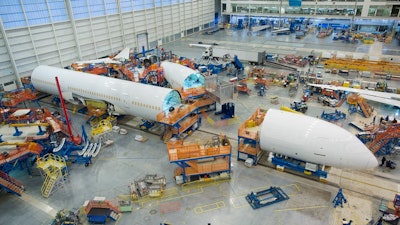 Boeing
Boeing workers in North Charleston, SC, have started final assembly of the first 787-10 Dreamliner.
The first 787-10 will cycle through Boeing South Carolina's Final Assembly facility as all major sections are joined, interior and exterior components completed, power turned on and production tests begin.
The first 787-10 is expected to fly in 2017 and first delivery is scheduled for 2018.
The 787-10 is the third member of the 787 Dreamliner family. As a stretch of the 787-9, the 787-10 will retain 95 percent commonality while adding seats and cargo capacity, setting a new benchmark for fuel efficiency and operating economics – 25 percent better fuel per seat and emissions than the airplanes it will replace.
To date, Boeing has received 154 787-10 orders from nine customers.