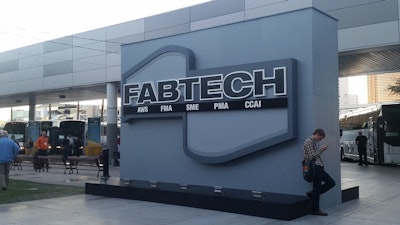 David Mantey
The final numbers are in for FABTECH 2016, and the trade show welcomed 1,500 exhibiting companies and a total of 31,110 attendees from more than 120 countries last week at the Las Vegas Convention Center.
Every year, the show brings together experts an other interested parties to discuss all things metal forming, fabricating, welding and finishing.
FABTECH's exhibit space spanned more than 575,000 net square feet, and attendees also had access to more than 100 education sessions and expert-led panel discussions.
A variety of special programming was featured at the three-day event, including an opening keynote from boxing legend and entrepreneur Sugar Ray Leonard as well as an appearance from cast members of the hit reality TV show "Counting Cars."
"We are so grateful to our exhibitors, attendees, special guests and the City of Las Vegas for helping make FABTECH 2016 such a resounding success," said Mark Hoper, vice president of expositions & media, FMA in a press release. "The enthusiasm and commitment displayed by everyone at the show to improve our industries were contagious."
Hundreds of live product demonstrations showcasing manufacturing's most cutting-edge equipment and technologies took place on the exhibit floor. These demonstrations allowed exhibitors to present their current product offerings to targeted buyers and generate quality sales leads.
Special event and panel discussion topics varied and covered important matters relevant to all of today's manufacturers. They included additive manufacturing/3D printing; how to attract more women to manufacturing careers; improved product development strategies; and how the 2016 presidential election results could impact manufacturing around the world.
FABTECH 2017 will take place in Chicago from November 6-9, 2017.