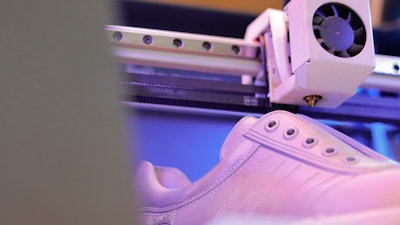 BCN3D/Camper
With the help of 3D printing, Spanish footwear multinational, Camper has taken a giant leap to enhance the creativity of its designers and engineers. Headquartered on the Island of Mallorca, Spain, Camper has integrated additive manufacturing technology into the daily work lives of its experts. The company's technical department has streamlined the creative processes of future collections by integrating desktop 3D printers (view photos in gallery).
Job Willemsen, Senior Designer at Camper, explains the benefits of 3D printers for his creative work: "Working with a 3D printer is very useful because if we have an idea in mind, together with a technician, we can obtain quick and direct results for the dimensions of components. This enhances our ability to be reactive."
Camper designs footwear collections for men, women and children. The collections, designed one year in advance, have a certain geometric complexity, and designers need technology that is capable of reliably reproducing detailed models. That's why they chose 3D printers from Barcelona-based BCN3D: the 3D Sigma and Sigmax printers. Most printed models use rigid materials, but many models are also printed with flexible material to obtain a prototype as close to the real thing as possible.
Jordi Guirado, Product Engineer at Camper, explains that "Because we have a dual-extruder system, we can use water-soluble print material. As a result, we can work with more complex geometric shapes and reduce design time for the collection."
Before the integration of 3D printing, the design process was much slower. Designers used to work in a 2D conceptual environment on their computer screens. With 3D printing, the company can really gain in quality. In Camper's technical department, engineers develop, in 3D, the sketches created by designers.
3D printing significantly increases the number of creative possibilities when it comes to designing footwear collections. Because molds are no longer needed to create shapes, extremely complex elements can be produced, which never could have been achieved before.
On a daily basis, Camper's designers discuss the new shapes they seek for new designs with the technical department. They then receive the results the next day in the form of a three-dimensional printed model. Before bringing BCN3D printers in-house, this was not possible and it would take 15 to 30 days just for prototypes to be ready. This work method makes team decision-making much quicker. As such, 3D printing exponentially improves product design and results.
Thanks to 3D printing, engineers and designers can obtain printed components on fabric that require a high level of manufacturing complexity. These components are light, ergonomic, and in line with customer demands in terms of dimensions, shapes
and weight.
Xavier Martínez Faneca, CEO of BCN3D, affirms that "With various 3D printers on site, Camper's designers now have new designs literally in the palms of their hands. This is a huge advantage for designers because they can now validate volumes, dimensions and geometric shapes that they could not visualise with a digital model. If designers can print a shoe model in 3D the next day, the design team has the ability to take their creative potential further. With collaboration, they can really achieve the product they are looking for."
Camper's Roots Date Back to 1877
In 1975, Lorenzo Fluxa created Camper in Mallorca to meet the demands for never-before-seen footwear. With a rich legacy in manufacturing footwear, he created a unique brand, full of diversity and quality, which is today admired around the world.
The beginnings of the company date back to 1877 when Lorenzo's grandfather, Antonio Fluxa, an expert shoemaker, travelled to England and came back to Mallorca with the first sewing machines the island had ever seen and a renewed spirit of innovation.
Camper's shoes continue to be designed and produced in Inca, in the heart of rural Mallorca. On the island, a young creative team works with craftspeople to create approximately 500 models each season. Now in its fourth generation, the brand has expanded with stores in over 40 countries, leaving its mark all over the globe.