Pixabay
Ever since computers have entered our lives, many routine processes have become more efficient, productive and less time-consuming. Digitalization has hit many areas, with manufacturing being no exception. Production automation has been the main focus of bringing the Factory of the Future model to life. To predict what production plants will look like a few years from now, let's follow the current trends to build a clear vision of the future of automation in manufacturing.
Lights Out Manufacturing
Have you heard of the term "lights out manufacturing"? It refers to the idea of an industrial factory that can operate day and night, a non-stop production cycle with no human workers involved.
However, is that really an option? According to many predictions, factories of the future will need more employees than ever. While the production process can be handled by industrial machines programmed to perform the sequence of actions, human input will still be required to program and service those machines.
Robots Replacing Humans
A decade ago, it was a major concern. Newspaper headlines read: Robots are going to steal our jobs. But as time goes by, it becomes more clear that manufacturing is not possible without a human's input. Robots can perform each task in a more efficient way, yet somebody needs to operate and maintain them. Here is a simple example of a 5 axis machining center.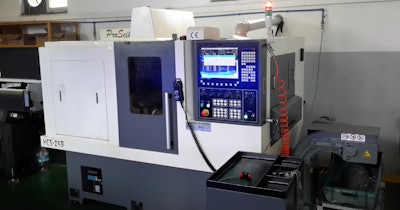 Such machining centers are CNC controlled and capable of performing various actions such as milling, drilling, boring, grinding etc. However, for smooth operation machine needs to be programmed in the right way. Somebody has to write the software which will be the driving force of the manufacturing process.
Internet of Things
Visualizing the future of automation in manufacturing is not possible without taking into consideration the Internet of Things phenomenon. This innovative technology brings the opportunity for any device to be connected to the internet. Be it a blender in your kitchen or a printing machine in your factory.
According to Gartner Analytics report, by the year 2020 over 26 billion devices will be connected to the global network. In terms of manufacturing, such interconnection will enable extremely smooth and efficient production in pretty much any industrial field.
Future of Automation in Manufacturing - What to Expect
So, what should we be preparing for in terms of automation in manufacturing? Noticing a few clear trends, it's safe to come to the following conclusions. Robots will perform tasks where high precision is required. They will also take the dangerous, high-risk activities off the shoulders of their human co-workers. And we shouldn't be threatened by this trend.
In the factory of the future, there will be a place for everyone, and the human's will still be running the show.
In the near future all industrial machines will be connected to enable easy maintenance and smooth operation of all production processes, and innovative automation systems will represent the core of future manufacturing stability and growth.