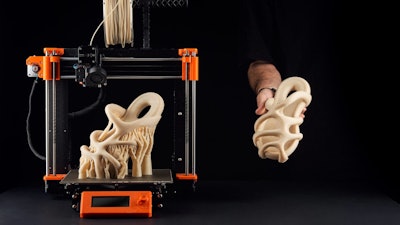 Balena
Balena, a material science company aimed at making advanced biodegradable polymer materials for a more sustainable fashion industry, today announced a partnership with designer Kitty Shukman to create a 3D-printed concept slide.
To create her unique, 3D-printed slides, Shukman utilized Balena's BioCir, the first fully compostable and biodegradable elastomer for the fashion industry. The collaboration is a milestone in the intersection of fashion, technology, and environmental consciousness, helping usher in a new era of sustainable design. Kitty's artistic vision for the slide combined with Balena's expertise in bio-plastic materials has resulted in a truly remarkable designer item – as striking as it is circular.

Driven by the concept of 'roots', Kitty aimed to seamlessly integrate the branches and stems of the upper section of her slides into the outsole, mimicking the organic wrapping of roots beneath the foot. She intentionally designed the left and right shoes to have distinct characteristics, enhancing the playful notion of roots growing organically over the feet. The 3D-printed slides serve as an invitation to take a deep breath and find solace in the roots that ground us.
Through this unique footwear concept, Balena is determined to push the boundaries of 3D-printing to advance the adoption of compostable, biodegradable and simultaneously durable materials in the fashion industry. 3D-printing has the potential to revolutionize the materials landscape for fashion – one of the world's most polluting industries. Innovative designers like Kitty have begun to realize the promise of this burgeoning technology as well as the clear 'End-of-Life' enabled through the pioneering of next-gen materials like BioCir™ in order to create new designs which are beautiful, fashionable, and circular from end-to-end.
Balena's state-of-the-art in-house lab translated Kitty's design into a tangible reality, showcasing the immense potential of its BioCir material in 3D-printing – as previously demonstrated in other major manufacturing processes like injection molding and extrusion – to help generate sustainable footwear.
The BioCir manufacturing process is highly scalable, allowing for collaborations and seamless integration across diverse industries and all available manufacturing methods. Crucially, products crafted with BioCir undergo a responsible end-of-life cycle through a biological recycling mechanism. This entails complete decomposition and biodegradation in an industrial compost facility, safely returning it to the earth – a circular process essential for a sustainable future.