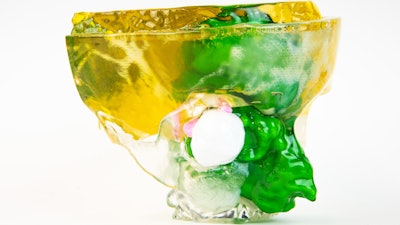 Stratasys
Medtech startup Axial3D has announced the closing of a $15 million investment round led by a strategic investment of $10 million from Stratasys, a provider of polymer 3D printing solutions.
This is Stratasys' first investment in Axial3D. The two companies also will be providing a joint offering to make patient-specific 3D printing solutions for hospitals and medical device manufacturers more accessible so it becomes a mainstream healthcare solution.
Personalized 3D printed anatomic models are used for pre-surgical planning and diagnostic use to improve patient outcomes while shortening time spent in the operating room. They are also used in education and training, and medical device development. Creating a 3D printed model from a patient's scan data normally takes several hours and requires a high level of technical expertise and expensive software licenses. Axial3D's artificial intelligence-powered algorithms enable healthcare providers to segment CT and MRI scans for these models without significant investments in time, specialized skills and large upfront costs.
A range of Stratasys printers and materials have been validated and FDA 510(k) cleared with Axial3D software to produce anatomic models for pre-operative surgical planning and diagnostic use across multiple specialties.