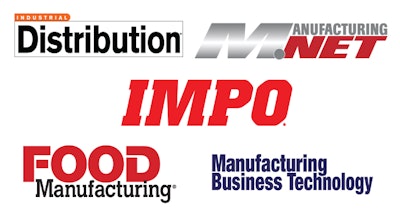 MADISON, WI ---- Industrial Media is pleased to announce the acquisition of Industrial Distribution, Manufacturing.net, IMPO, Food Manufacturing and Manufacturing Business Technology. 
The new titles, formerly held within Advantage Business Marketing's Manufacturing Group, benefit from their strong brand recognition, loyal readership and significant reach within these vertical markets. The team at Industrial Media has vast experience within the manufacturing, design and distribution segments, making the acquisition a logical fit. 
According to Industrial Media's president, Tom Lynch, the new titles will dovetail nicely with the company's flagship, IEN. "Since we relaunched IEN in 2016, we've seen website page views grow from 49,000 to more than 500,000. It's all due to our unique, daily content that targets reader interests with a variety of formats, including video which we produce in-house," says Lynch. "We will use IEN's tremendous growth as a template for these other titles, and we look forward to adding depth to our presence in these industry verticals." 
Lynch will spearhead the relaunch, along with company co-founder Rich Reiff, the former CEO of Advantage. Former Advantage editors David Mantey, Jeff Reinke and Anna Wells will take the helm from a content standpoint. Each spent nine years at the publishing company prior to the founding of Industrial Media, and look forward to resurrecting the brands they helped to grow throughout their tenure. 
One major component of the relaunch will be a six times-per-year print magazine reaching the Industrial Distribution reader. A market-leading brand since 1911, Industrial Distribution has long-served a loyal audience of distribution company executives and salespeople. 
Additionally, all of the titles will benefit from upgraded websites, enhanced written and video content, and new industry reports, webinars and white papers. Advertisers can take advantage of Industrial Media's innovative content marketing and custom publishing programs, as well as traditional sponsorship opportunities alongside our targeted print, digital and video content. 
"This is an exciting transition for our company," says Lynch. "We set out to grow our reach within the industrial market, and this amazing opportunity will help facilitate that." 
For more information, or to advertise, contact Tom Lynch at tom@ien.com. 
About Us 
Industrial Media represents a joint venture between Thomas Publishing Company LLC and Rich Media Group. Industrial Media manages all content creation, advertising sales, and marketing initiatives for the IEN brand, including the 6x magazine, videos, website and associated electronic media products. 
Operating as part of the joint venture, Industrial Media also offers several vertically-focused electronic products, content marketing programs and custom publishing services focused on the industrial engineer.